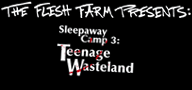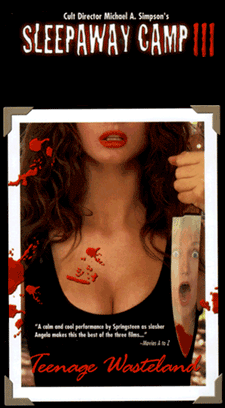 Welcome to Camp New Horizons, where an autumn retreat brings together a group of obnoxious rich kids and surly city thugs for an 'experiment in sharing'. But when notorious transsexual psychopath Angela Baker joins the horny teens, she shares a lesson in butchery with axes, trucks, firecrackers, lawnmowers, and more.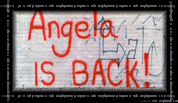 "I've never chopped wood before, but I've chopped other things!"


- Angela
---

Pamela Springsteen returns as the "angel of death" Angela, in this 3rd installment of the Sleepaway series. A group of select teenagers, some from wealthy families, some from lower class families are pulled together by new owners, Herman and Lilly Miranda, for an experiment in "caring and sharing" at Camp New Horizons, formerly Camp Rolling Hills.
Angela disguises herself as a registered camper for this camping trip (that's why the campers will know her as "Maria" in this one), and that's how she grabs the opportunity to take part in this project. Upon arrival, the campers are split into 3 diverse groups, and they go separate ways to set up campsites for a few days of camping, and are supposed to meet up afterwards before they leave. Of course Angela finds that these campers are no different than the previous campers that she's dealt with before, so she sets to do what she does best - disposing of immoral teenagers. When she's finished with her original group of campers, she trades places with another camper from another group to join them, and then finally joins in on the third group when she's done with the second group. Of course the final night of camp is a thrilling adventure with the final four surviving campers, so I'll save that part for you to see. All I'll say is like in the "abandoned cabin sequence" in
Sleepaway 2
, you will get to see all the corpses of the dead campers one last final time in the "find Marsha" game that she sets up for Tony, Anita, and Greg. The end of the film is a battle to the death fight between Angela and Marsha.
Definitely a cult horror favorite, as it's a no holds barred film... almost. About 20 minutes of film was cut from the finished version, but you will get to see the extras in the DVD release. For instance, if you remember the scene where Angela kicks Arab into the tent, and when Arab starts to crawl out of the tent, yelling obscenities at Angela, then Angela decapitates her, and all you see is a close-up of Arab, axe between her head and body, and hands twitching. You will get to see what was cut from the film, where Angela kicks the head towards the screen, Arabs hands still twitching in the background. Another scene that was cut was when Angela tied Bobby to the tree while enticing him with "S&M talk". All you got to see was Angela hopping into the jeep (where the rope was tied to), Angela flooring the jeep, watching the rope pulling along the ground and Bobby screaming, blood around his shoulder area and him dropping slowly down the tree. You will get to see the edited part, where his arms actually get ripped off as she's speeding away. Most of these scenes were cut to earn a "R rating", but you'll soon get to see what wasn't originally available. Interviews are also included on this disc. Definitely a treat for any
Sleepaway
fan!
---

- Characters are named from West Side Story, Brady Bunch, and The Munsters.
- The hockey mask Angela used in Sleepaway Camp II: Unhappy Campers is seen in the fishing scene. As it is pulled out of the water another camper remarks that the date is "Saturday... the 14th".
- Filmed back to back with Sleepaway Camp II: Unhappy Campers.
- The character of Arab was originally called "Action".
- Tracey Griffith originally auditioned for the part of Angela before being cast as Marcia.
- The license numbers on the truck correspond with the house numbers in A Nightmare on Elm Street.
- The movie's subtitle Teenage Wasteland comes from a Who song, a favorite of director Michael Simpson's.
- The girls' cabin is the same one used in the previous film, simply redressed.
- The stick Angela expires Herman and Sweatpea with is the same stick she used to smash Phoebe's head open with in Unhappy Campers.
- As Angela pulls the zipper up on the tent, Jan pulls Herman's zipper down.
- Valerie Hartman who played Ally in Unhappy Campers stuck around for the shooting of this chapter, doing some behind-the-scenes assisting.
- Half-way through filming, Sonya Maddox, Anita, went home for a weekend and came back with a cut and dye. They tried best to change it back, but look closely and you'll notice the difference in some scenes.
- Michael Simpson fell in love with the Red Ferrari used by Reporter Tawny Richards. He delivered it to set, took it to blinding speeds down the Interstate at night, and personally moved it between scenes.