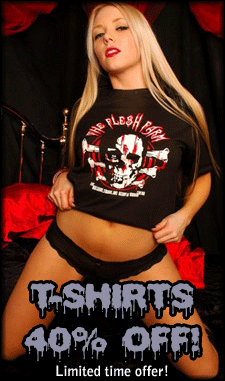 WERE - $16.00
NOW - $10.00

This is a limited time offer! Grab them before they're gone! Great Christmas presents!

Well here they are you twisted horror gluttons! The Flesh Farm, along with printing from Nostromo Design, has conjured some of the most gore-covered t-shirts ever to be unleashed upon the horror community! (Real blood not included.) Made from 50% cotton and 50% polyester Hanes Premium Product, these shirts are long lasting, durable and of the highest quality. When payment of your order is received and cleared, each shirt will be personally inspected by me, J.P. Butcher, packaged and shipped out the next business day.
These shirts are helping The Flesh Farm, and our dedication to providing you horror entertainment, stay alive. Every penny earned from these t-shirts are going right back into the site to pay for server space, bandwidth bills and getting more horror merchandise for you guys! You have our 100% assurance that your order will be processed with the utmost care and speed. After all, you guys are the reason we're here and quite frankly, you deserve the best for supporting The Flesh Farm.
Click the below images to see the graphics up close!
All shirts are $10.00 + $5.00 S/H. $15.00 total. WE SHIP WORLD WIDE! If you are living outside of the US, we will have to ask for an extra $5.00 for shipping charges. Please email me so we can get the proper price for your currency. fleshmaster@thefleshfarm.com (Sometimes it's cheaper depending on your countries currency.) We've already had satisfied customers in France, Belgium, Finland, Croatia, Germany, Japan and Australia!
Your order will be sent through U.S. Priority Postage in water proof packaging. If you are purchasing multiple shirts, we can set you up for cheaper shipping!
You have multiple choices to purchase your flesh covered threads.
Option #1 - PayPal (Credit Card)
Log into PayPal and order your shirt!
Option #2 - PayPal (From Bank/Checking Account)
Log into PayPal and order your shirt!
Option #3 - Money Order
Option #4 - Personal Check
You could consider using a cash advance to help you pay for all the t-shirts and thefleshfarm.com merchandise you would ever want!
Sizes available

:


Small --------------------------- In Stock!
Medium ------------------------ In Stock!
Large --------------------------- In Stock!
X-Large ------------------------ In Stock!
XX-Large ----------------------- In Stock!
XXX-Large --------------------- In Stock!












See more fans in their Flesh Farm shirts in our Frightening Fans section!
To order through PayPal, log in to your account (or create one, it's free), click on the "Send Money" tab and send the total payment of your shirt/shirts to fleshmaster@thefleshfarm.com MAKE SURE the add the SIZE OF YOUR T-SHIRT and your SHIPPING ADDRESS in the "Note" box while filling out the order form. Here's an example of the completed form.
Click here to log into PayPal and order your shirt!
To make a purchase with a Money Order or a Personal Check, email me at fleshmaster@thefleshfarm.com for all the info on sending the payment through the mail.

GET FEATURED ON THE FLESH FARM!
When you receive your shirt, we'd love to get a picture of you wearing it! Have fun with it... cover yourself in pig intestines, take the picture in front of your horror collection or just snap a picture of yourself in the mirror or on your webcam. Anything goes! WE WILL NOT ACCEPT NUDITY FROM ANYONE WHO LOOKS UNDER THE AGE OF 25! But legal 18+ nudity (with your shirt in view) is welcome. The picture will be added to our growing Frightening Fans section for everyone to see your dedication to horror! (Unless you'd rather it not be posted. We'd still love to see it!) All photos can be sent to fleshmaster@thefleshfarm.com. Thanks everyone!

BAND MEMBERS!
Want to get your band some free advertising and exposure? All you have to do is send us a picture, wearing one of our gore covered t-shirts, whilst shattering eardrums on stage! How fuckin' easy is that! Just get a friend to snap a picture and send it over to us at fleshmaster@thefleshfarm.com! The picture, along with a banner to your bands website and a short review of your music, will be added to our "frightening fans" section and the horror freaks will begin to roll in. So buy one of our t-shirts and show your fans that you support horror and all it's gorey goodness!