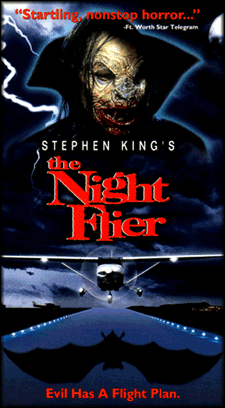 For Richard Dees facts are always stranger than fiction. Every headline is a dead-line. Serial killers, UFO abductions, tales of molestation, mayhem and murder. To some the tales are unbelievable -- but his faithful readers believe. And now there's a new story. The Night Flier. What is it that flies by night in a dark-winged Cessna, lands at secluded airports and brutally murders local residents? Dees begins to follow the unknown killer in a Cessna of his own, uncovering clues that reveal a pilot more terrifying than he could ever have imagined.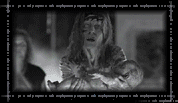 "Never believe what you publish, and never publish what you believe."


- Richard Dees
---

I'm not really a great fan of vampire movies, in fact there are very few that I could actually name that I like, nonetheless I bought The Night Flier because the DVD cover looked rather interesting but I still didn't expect much from this movie.
Richard Dees is a journalist for a sleazy and morbid weekly publication named 'Inside View' and is assigned to cover the story of a mysterious pilot who flies into rural airports and kills whoever is there, draining the victim of all their blood. At first Richard doesn't want the story but after seeing how big a story it could be and also wanting to put ambitious young journalist Katherine firmly in her place he accepts the assignment and goes in search of information on the killer he later nicknames The Night Flier.
I was very surprised by the quality of this movie. Currently I am moderately wary of vampire movies so my hopes were not particularly high. The first ten minutes or so of The Night Flier are fairly slow moving and rather tedious but that soon changes as The Night Flier becomes a quite adept thriller. It's not a typical vampire movie and that is probably why I enjoyed it. Instead, The Night Flier is more of a crime drama as the movie is directed towards uncovering the killer rather than stopping the killer. This makes it an interesting thriller in a way and despite some noticeably gory scenes stays away from the obvious idea of concentrating solely on the killer's activities. Tension is built up exceptionally by not concentrating too much on The Night Flier. The way the movie plays out gives it a strong purpose as it leads to a blistering finale. What we are left with is a story about a man on the edge who will do anything to get his story. The character of Richard is a bitter man, possibly socially maladjusted and one has to question whether he is in some way disturbed by all that he has witnessed in his life? He shows mental strength in his pursuit of success and seemingly fears nothing, showing no compassion or sympathy for the feelings of others yet there are still moments when he comes across as a much `softer' human being. Miguel Ferrer does an excellent job of portraying Richard and his performance in the last ten minutes of the movie is almost profound. The ending is brutal, in some ways shocking and definitely not what I expected. By the end it becomes obvious that there were two levels of horror working in this movie that came together well to leave us with The Night Flier.
There were flaws with the movie though, a couple of plot holes and many unanswered questions, though perhaps that the intent was to leave an air of mystery over the movie. Apart from Ferrer I don't think the movie was well cast as most of the other actors didn't really seem to fit the tone of the film. Furthermore, despite many great make-up effects there were also a few (one in particular) that looked awful and seemed to be totally out of place with the rest of the film. The movie was also a little slow in places and does not really get very good until about a third of the way through. These few faults though aren't really enough to harm the enjoyment and whilst this may not be to everyone's liking I personally believe it to be a well made and appealing movie.
---

- In the scene where Katherine is looking at all of Richard's bylines, the framed copies of "Inside View" contain many references to other stories by Steven King: Springhill Jack Strikes Again! - "Strawberry Spring" - Headless Lamaze Leads To Succesful Birth! - "The Breathing Method" - Kiddie Cultists in Kansas Worship Creepy Voodoo God! - "Children of the Corn" - Satanic Shopkeeper Sells Gory Goodies! - "Needful Things" - Naked Demons Levelled My Lawn! - The Lawnmower Man The Ultimate Killer Diet! Gypsy Curse Flays Fat Lawyer's Flesh - "Thinner."
- Grossed $125,397 in the USA.
- Richard Dees, the main character, was also the reporter who tried to get an interview with John Smith in the Stephen King novel The Dead Zone.
- Released February 6, 1998.
- Many of the murder photos in the press office are real, including the one of the horribly mutilated prostitute. They were taken from the photo album of a homicide detective who worked in LA from the 1930s to the 1950s, which would later be published under the title "Death Scenes".
- Aaron Michael Lacey screen-tested for the role of the vampiric Cessna pilot.