Renée Estevez grew up on movie sets traveling with her father, Martin Sheen. So it only seems proper that she became inspired by watching actors day in and day out. Renée started out in such television films as Shattered Spirits and The Room Upstairs but didn't get recognized as a true actress until she took the role as Molly from Sleepaway Camp 2: Unhappy Campers.
Throughout her career she had appeared in numerous films and even has tapped into some popular television series including Growing Pains, Macgyver, "JAG", and The West Wing.
In this interview we had a chance to ask her about her work in films, television and also got new information for all you Sleepaway Camp fans out there. So sit back and enjoy this unique look into Renée's career.
Thank you for this interview Renée! Fans of The Flesh Farm have been asking what you've been up to throughout the years since "Sleepaway Camp 2".... what can you tell us?
- I've been doing quite a bit since then, alot of indie films. Most recently I starred in two films, "Mercy of the Sea" and "Going Down". Both films are making the festival rounds and you can read more about each on my web site too. As for TV, I seem to be doing alot of guest spots on "JAG" the past few years. Go figure.
How did you come about getting the part as Molly in SC2?
- I auditioned for the role in LA.
What was it like behind the cameras? Did you gain alot of friends from the SC2 days?
- We filmed at a real summer camp and I spent alot of time in the FX cabin watching Bill "Splat" Johnson working his magic. It was fantastically gory! Fake bodies, limbs and heads everywhere. Bill worked from real forensic books.
Did you take a look through his forensic "studying" material?
- No, I didn't have the stomach to look at those books.
Are you still in contact with any of the cast or crew?
- I kept in touch with Michael Simpson up until a few years ago.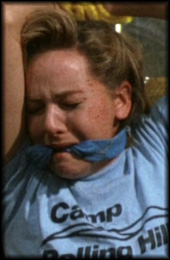 Did you keep any souvenirs from the filming?
- Unfortunately I only kept a couple of boring T-shirts.
That's a bummer... would you have kept more?
- Yeah, yeah, I'm regretting it now.
Have any stories you'd like to share about the SC2 experience?
- One story comes to mind. I failed to tell Michael that I didn't know how to make a blood curdling scream and he was counting on me for the final scene where Pam brings in the severed head of my boyfriend and plops it down in front of me. I quietly took one of the other actresses aside and together we secretly went out back. She helped me conjure up a few terror scenarios and in a matter of minutes I was screaming like a real B-movie actress pro! I nailed the scene in two takes and the sound man never spoke to me again.
We hear that you play the character Nancy on NBC's The West Wing. Are you still playing this character?
- Yes, I still play Nancy on the The West Wing.
How is it playing a character on a series instead of shooting a film?
- I enjoy working on The West Wing but when it comes to shooting movies, particularly low budget, they can't be beat. With a limited amount of money there may be time constrains but the work goes much more quickly, very high energy. I like working in that type of environment.
What are you up to now? Any big projects coming up?
- Nothing to mention at the moment. I'm revamping my web site and will post anything new there as soon as it breaks.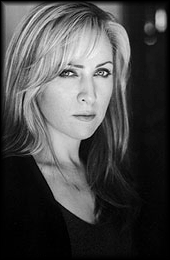 Are you a fan of the Horror genre? If so what are a few of your favorite films?
- Yes! My fave, hands down, "Evil Dead 2". I also like what Rob Zombie is doing with films like "House of 1000 Corpses." I like a side of humor with my gore.
If fans are looking for personalized autographed photos of you, where should they look?
- Fans can write their request to this address. fanmail@renee-estevez.com
For my final question?. How do you feel about the direction that the horror genre is heading? Do you think it has gotten better or worse since your beginnings in the genre?
- If we're not careful CGI will destroy this genre. Don't get me wrong, it's great and its taken audiences places that directors could only dream of before. But it's no replacement for a great script, or a good performance from an actor or the imagination of a trained director.