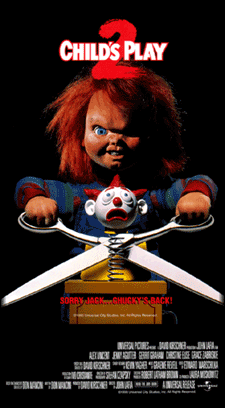 Despite being roasted to a crisp in his last escapade, Chucky rises from the ashes after being reconstructed by a toy factory to dispel the negative publicity surrounding the doll.
Back in one place, Chucky tracks his prey to a foster home where the chase begins again in this fiendishly clever sequel to the enormously popular original.
"Shut up and drive before I kick your fuckin' teeth in."


- Chucky
---
A cute kid's doll is once again the unlikely home of Charles Lee Ray, notorious serial killer, again feeding off of the surrealism created by seeing a kid's doll screw it's face into expressions of the purest rage and spouting all manner of profanities. By now, Ray is becoming more and more desperate to get out of the body of the doll, because as we were informed in the first film, if he spends too much time in that body he'll gradually become more and more human until one day he'll be stuck in it forever. Needless to say, Ray's a lot more interested in starting life over as a 6-year-old (and who wouldn't?) rather than spending the rest of his life as a plastic doll.
Although, given that he becomes more human the longer he is in that body, how human will he eventually become? Will he ever reach full human-hood? My guess is that he'll gradually approach being a real human being in a sort of half life, where he gets closer and closer and closer but never actually gets there, kind of like computer generated actors. There is currently much talk about how close computers can ever get to animating convincingly real people into the movies, and the leading theory seems to be something akin to my theory of Chucky turning human. He'll always get closer but he'll never get all the way there.
At any rate, Andy's mother has landed in a mental institution and Andy has been taken in by a foster family with appropriate mental vacuity to be a horror movie surrogate family. When Andy becomes frightened and runs through the house, his foster father grabs him and says, 'Rule #1, no running in the house!' OK, 'dad,' but not even when I open a closet and find myself confronted by the doll that landed my mom in the nuthouse and almost cost me my life and my very soul? My God, man, what the hell is this guy doing with a Good Guys doll in the house in the first place? It's difficult enough trying to figure out why it's even there WITHOUT having to watch this mental giant grab Andy by the arm and ask him what on earth is the matter.
There are some funny moments in the film, such as when Chucky smashes the head of the innocent Good Guys doll, buries it, and takes its place in the house, and my favorite, when Chucky is later addressed by a doting adult, Chucky responds by saying in his cute doll voice, 'Hi! I'm….Tommy!'
The stockholders in the Play Pal corporation are distressed over the suffering that the company has endured due to the negative publicity of the events of the first movie provide the premise for the movie's rather impressive finale. In order to generate a more positive image for the company and the doll, they have decided to reintroduce it into the market. The original Chucky doll was collected by the company and examined by toy-makers, who decided that there really was nothing truly wrong with it, it was not really a demon-possessed toy, so they decided to melt it down and remake it. Why they didn't just throw it away I'm not really sure, but who cares. Waste not, want not, I guess.
At any rate, Chucky comes back in a fresh plastic body (too bad he can't be transferred to a human as easily as he can be transferred from one doll body to another), and once again resumes his quest for Andy's soul. I've heard complaints about why Chucky had to go after Andy and couldn't just find a bum on the street or something, but you'll remember in the first movie, the conditions of his plastic entrapment stated that he could only transfer into the body of the first person that he revealed his identity to once he was inside the Chucky doll.
Nevertheless, even though the first sequel in the Child's play series comes dangerously close to falling into that sophomore sequel chasm of falling flat because of obviously feeding off the success of its predecessor without having much of anything to add to the story, Child's Play 2 escapes into the world of moderately acceptable horror sequels, kind of like Psycho II, which had no hope of matching its predecessor but at least was able to justify its own existence.
I think it's easy to be put off by the conclusion of Child's Play 2, but I was pretty impressed with the toy factory setting, if only because it created such a great atmosphere for Chucky to make his hunt and Andy and his foster sister Kyle to try vainly to escape. There was some pretty clever stuff in the final act of the film, not including, however, the scene where Kyle and Andy run around completely lost, making the factory seem like a maze by editing together a lot of clips of them clearly running around the same corner half a dozen times or so. A bit trite, but nothing compared to my biggest gripe of the film, which is the final scene, one of the goofier things that I've seen on an otherwise at least moderately competent horror movie.
Odd for a movie to try so hard to live up to its expectations and then belittle itself with something like what I'll just call the air hose scene. I do, however, think that the movie was successful and good enough to deserve a better DVD than it got.
---

- Months of preparation went into creating the "new" Chucky. Since it took nine puppeteers working in perfect synchronicity to operate the doll, every move had to be worked out so that nine people could coordinate their efforts and hit their marks.
- At the end of the movie when Chucky is remade in the toy machine there is a hand visible as the credits roll.
- Filmed in Chicago, Illinois.
- In order to make Chucky's speech more realistic, specific scenes were shot at eighteen frames per second instead of twenty-four. Kevin Yagher, the dolls designer, said, "That way we have a little more time to sync up our facial movements to the words. Then the film is speeded up to match everything else, and we're able to get the tough letters, like 'F' and 'B', much more realistically.
- Child's Play 2 was filmed on a budget of $13,000,000 and grossed $28,501,605 in the USA.
- Every scene with an animated Chucky required a "hiding place" under the floor or somewhere off screen where nine puppeteers could huddle together for hours at a time, joysticks in hand.