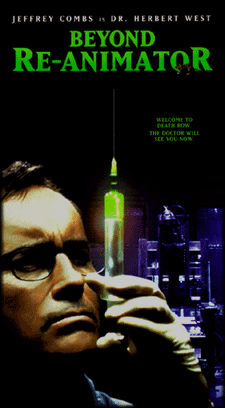 After causing the Miskatonic University Massacre, Dr. Herbert West has been serving a prison sentence for the past 14 years. Far from overcoming his scientific obsession with bringing dead organisms back to life, he has no choice but to continue his experiments on the only specimens he can find in his cell: rats. When Howard, a new young doctor, comes to work as the prison MD and requests his assistance, Dr. West discovers the young protégé has something he left behind 14 years ago...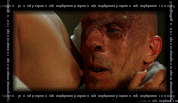 "She's not getting any fresher."


- Dr. West
---

As a big fan of the Re-Animator series, I was quite excited when I found out that a second sequel was being made. I am pleased to report that Beyond Re-Animator doesn't disappoint! It is now 14 years after the infamous massacre of the second film and Herbert West has found himself in jail. However, you can't keep a good re-animator down, and being in jail doesn't stop his experiments, especially when a new doctor; Dr. Howard Phillips arrives on the scene.
Jeffrey Combs returns as the insane scientist, Dr. Herbert West. Unfortunately, Dan Cain (Bruce Abbott) from the other two films doesn't return, but Re-Animator was always Combs' series anyway, so although it's a loss; the show must, and most certainly does go on. Jeffrey Combs was made for the part of Herbert West; his portrayal of the character is absolutely wonderful. He catches just the right atmosphere of a man obsessed by his work in all three films. He also manages to tie a lot of humor in, which is obviously a good thing for a tongue in cheek movie such as this. The rest of the cast acts as a support to Combs, and succeeds fairly well in that respect but none really impress much on their own. Jason Barry (who had a small role in the movie Titanic) acts as Dan Cain's replacement and Herbert West's new understudy; Howard Phillips. He never really impresses in the movie and it would seem that his main objective in the movie is to make West look more insane, and through his subdued performance; he does that well. Elsa Patasky looks good as the lady of the film, but her performance is terrible; even embarrassingly bad at times. Simón Andreu is the only member of the cast other than Combs that really impresses, and he plays the prison warden; the villain of the piece.
Gorehounds won't be disappointed with this film, I can guarantee you that! Re-Animator became infamous for it's heavy amounts of overly gory sequences, and this movie features lots of them too; from an exploding chest to a severed torso that walks on it's hands; this movie has it all. Many sequels, particularly horror sequels just recap the original with more gore, but the Re-Animator sequels haven't so far, all have something new. In Bride of Re-Animator, a new idea about animated different parts of a dead corpse emerged, and in this film the new idea is adding the 'soul' to the re-animated body. It is admirable for the series to take that route as for a film of this ilk, more gore could simply be added and it's fans would almost certainly happy, but here you get a story to chew on as well.
The last two films ended with a riot, which has become a part of the Re-Animator tradition, and this film doesn't break that great tradition. The last 30 minutes or so are absolutely insane, with many things going on all at once and that is sure to please fans of the original movies. Overall, Beyond Re-Animator is an incredible gory ride and is recommended to anyone with the stomach for this sort of movie.
---

- Jason Barry's character is named Howard Phillips. The movie is based on a story by H.P. Lovecraft, whose full name is Howard Phillips Lovecraft. Also, the last name of Elsa Pataky's character is Olney, which is the last name of the main character (Thomas Olney) in Lovecraft's story The Strange High House in the Mist.
- When Howard is talking to Laura after she has been revived, he calls her Elsa.
- Filmed in Barcelona and Prisión Modelo, Comunidad Valenciana, Spain.
- The end credits are accompanied by a fight between a rat and the warden's severed penis.
- The budget for Beyond Re-Animator was $3,000,000.
- When Emily searches the house for the strange noise right before being surprised by her brother, she crosses the living room. A cameraman is visible in the large wall mirror for the entire tracking shot.