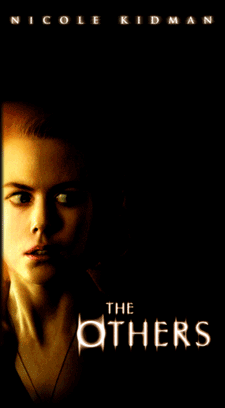 While awaiting her husband's return from war, Grace and her two young children live an unusually isolated existence behind the locked doors and drawn curtains of a secluded island mansion. Then, after three mysterious servants arrive and it becomes chillingly clear that there is far more to this house than can be seen, Grace finds herself in a terrifying fight to save her children and keep her sanity!
"Sometimes the world of the living gets mixed up with the world of the dead."


- Mrs. Mills
---

After, Tesis and Abre Los Ojos, Amenabar goes up a notch and signs with The Others, a masterful masterpiece which refreshes fantastic cinema and breathes new life into the theme of the haunted house. He largely deserves his nickname of "new young prodigy of Spanish cinema". With Tom Cruise, partly responsible for the production, one could fear a strong Hollywood influence in Amenabar's opus. But fortunately, it's nothing of the sort. As a matter of fact, just like the great M Night Shyamalan, Alejandro Amenabar appears as a real author, on the fringe of the Hollywood industry and he's got enough character to let his style nurture. Let's hope he won't be crushed by the Hollywood machine. The movie was shot in Spain, with eventually a modest budget ($17,000,000) and it was a surprise to see it doing brilliantly everywhere in the world.
Amenabar had already ventured in the dreadful world of the snuff-movies with his debut movie Tesis and had succeeded in mixing several films genres in one cohesive narrative line with Abre Los Ojos. But with The Others, one didn't suspect a real ease in the "In Camera". It's a quite dramatic change of style and in the end a successful translation in the fantastic.
Amenabar's references are easy to guess. They're three cornerstones in fantastic cinema: The Innocents, The Haunting and The Sixth Sense. The Others can be considered as the meeting of these three opus. All the elements of the fantastic movie with Gothic nature are gathered and perfectly used. There's no shortage of examples: an austere mansion with a sinister architecture which hides a dark secret, big rooms half obscured, a mist which tends to thicken throughout the days, characters with sinister-looking faces. All these features blend themselves to create a nearly stifling universe. Moreover, Amenabar favors a calm and quite slow rhythm to play with the spectator's nerves as much as possible and we are entitled to real moments of fear. It is also interesting to write that a minimum of special effects is just enough for the director to maintain anxiety. He also weaves a more and more threatening atmosphere marked out by the progressive reversal of situation (in the beginning of the film, Nicole Kidman dominated Fionnula Flanagan but in the middle of the film, it's the contrary which happens). And, of course, like in a successful suspense movie, virtually all the obscure or ambiguous points are clarified making the story incredibly coherent and after the final conclusion (which of course, I won't reveal), the very last sequences have a strong emotional power and it would take a heart of stone to resist them. On another extent, let's also take down the omnipresence of religion, supposed to be a sort of protection for Nicole Kidman but which, in the end turns out to be useless. One can put forward that Amenabar had surely a strong catholic education and he must have lost his faith...
But the qualities of The Others don't stop here. It is visually and technically an appealing movie with a gorgeous photography (certain images are breathtaking) and there's also a careful work on sound and the original soundtrack. On of the most important characteristics from Alejandro Amenabar is that he composes the music of his own films and her, very simply, he excels himself. The delicate and disturbing sounds we can hear contribute to reinforce the threatening atmosphere of the film and makes us feel a little more ill-at-ease again.
The Others was released when Nicole Kidman was just divorced with Tom Cruise and I had thought that she gave the image of a more mature and ambitious actress. Amenabar's flick confirms it. One is really under the impression that she gives the best that she can. There's nothing to say about her role she takes with consummate skill. Her role of haughty middle-class housewife with a cold and penetrating look is sufficient to make one shudder. What is strange is that her name in the film is Grace and her hairstyle is reminiscent of Grace Kelly's. Is it a nod to the actress? Be that as it may, it would be unfair to forget the rest of the cast, especially Fionnula Flanagan who under a docile and frail appearance can easily become disturbing. At last, Amenabar made quite a creditable job of the directing of children who are, in general difficult actors to direct.
A chilling and great movie from start to finish. To fully savor all lights turned off. Highly recommended. Hats off to Mr Amenabar: he is one of the main leaders of Spanish cinema and his career is starting well as the triumph of Mar Adentro testifies.
---

- At one point a very scared Nicholas asks Anne to say something, anything, and she says, "My name is Anne and I'm walking. I'm walking and my name is Anne." This is a reference to director Alejandro Amenábar's first movie Tesis in which Angela asks the same thing of Chema, getting a similar answer.
- The disease the children have is an actual disease known as xeroderma pigmentosum. It is very rare with roughly a thousand people in the world that have it.
- Being a Spanish co-production, this film went on after its release on September 7, 2001, to become Spain's biggest grossing domestic film of all time after less than two months of release.
- Director, Alejandro Amenábar, makes a cameo in one of the photographs of dead people - he's the one on the right with a moustache, of the group of three men.
- Mateo Gil, screenwriter of Alejandro Amenábar's previous film Abre los ojos, has a cameo as a dead man's photograph in the album.
- The ghostly image appearing over Grace's shoulder resolves itself into a somber face in a painting on the wall. This image is actually a detail (specifically, a close-up of the Puritan man's face) of the 1855 Pre-Raphaelite painting "The Wounded Cavalier" by William Shakespeare Burton. The face of the painting is that of Eduardo Noriega.
- The movie opens with Nicole Kidman, in voiceover, reading a story. She begins with the words, "...are you sitting comfortably? Then I'll begin." These were the opening words from the BBC radio programme "Listen With Mother", broadcast in the UK between 1950 and 1982. (She actually says, "Now, children, are you sitting comfortably? Then I'll begin," a common mis-quotation of the Listen With Mother opening.)
- This was the first film ever to receive the Best Film Award at the Goyas (Spain's national film awards) with not a single word of Spanish spoken in it.
- The house - supposedly on the island of Jersey - is actually located in the north of Spain (Santander).