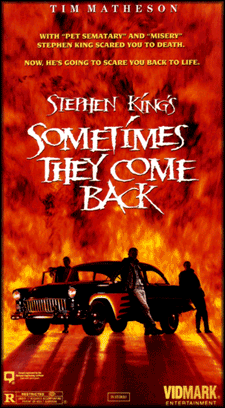 For Jim Norman, returning to his old hometown to teach high school after a twenty-year absence may be the ultimate nightmare. Haunted by recurring dreams that terrify him and concern his wife, he must face the demons of his past.
On a night long ago, a fiery car crash claimed the lives of his brother and a gang of hoods. Now the hoods have come back for revenge and Jim must confront them in the evil tunnel where his brother died to set them free and end the horror.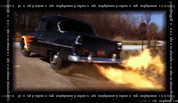 "You wanna get through this tunnel kid? Well you're gunna have to pay."


- Richard Lawson
---

This film is a piece of art, a masterpiece too. It brings together, in a very frightening and disquieting way, many of Stephen King's themes. First two brothers, in the past, one being killed by four bullies. Second, the dead brother is coming back from beyond to help his little, now older, brother solve the problem. Third, the problem is the return of three of the bullies who were killed by a train in their car under a tunnel because the surviving brother had stolen away the key of the car they had dropped, blocking them thus in front of the train. Four, the three bullies are systematically killing the students of the surviving brother, now a teacher who came back to his native city, five, one after another because they have any normal contact with him. Five, they make the deaths look strange so that the teacher will be suspected. Six, he knows about them, either because he sees the crimes in real life, but he is the only one to see them, or because he is haunted in his dreams with a vision that tells him every detail. Seven, this will go on till he accepts a final confrontation in the very same place where the first confrontation occurred in the past. Eight, they will be destroyed by a replay of the train scene, etc.
This film is very disquieting because it means no one must ever come back to a place they have fled because of a dramatic event. Or if one ever comes back to such a place, one will have to confront the past and solve it by solving the problem that happened in this past. This theme is common in Stephen King's novels, like, for example,
Dolores Claiborne
or
IT
. The theme of the living dead has been used over and over again, and the great value of Stephen King's imagination is that he introduces so many variations that we, at times, do not even recognize the theme, like in
The Dark Half
.
---

- When the guys are chasing Billy you can see North in the back seat, but when the guys drive off after killing Billy you only see Vinnie and Lawson in the car.
- When the three punks enter Jim Normans class, they say they transferred in from Millford. Millford is actually the name of the cemetary that they were buried in... Millford Cemetary.
- Released on television May 7, 1991.
- Chris Demetral was nominated as 'Best Young Actor in a Cable Movie' for his role as Wayne Norman.
- Filmed in Kansas City: Kansas, Liberty: Missouri, and Rocheport: Missouri.
- When Lawson says "get this bum out of my way before I slap him" at the end, his mouth does not match his voice.