Here she is! The scream queen we all love, Ms. Stephanie Beaton! I'd like to quickly thank Ms. Beaton again for help letting all her fans out there get a step closer to getting to know her and for being so kind as to let me interview her.
If you're not already a fan of Stephanie, you will be after getting to know this beautiful, intelligent and talented actress/producer/director. With a resume spanning over 30 films, 10 television appearances, 4 commercials and many conventions; this scream queen has already secured her place in horror history.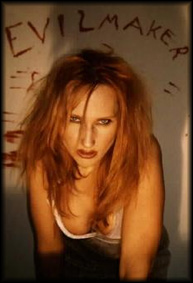 My first question is…out of all the films you've been involved with, which one was the most enjoyable to work on? Why?
- Let me see, this is a tough one cause most of all my films is very wonderful to work on unless something goes wrong on the set. Lets see, I can't really name one, but for the most pert, "The Evilmaker" due to the script and the crew, was one of my favs, "Witchcraft 11", working with Ron Ford is ALWAYS a great experience, and "Slice N'Dice" because I loved the script playing a female serial killer. As for my own productions, I loved, "Evil In The Bayou" cause it was a great cast and script and no problems and "Tales From The Grave", which watching the acting talent of Joe Estevez was amazing.
While preparing for a role, do you use any special technique to get yourself ready?
- You know, I like to read a script like once or twice then get into my character and figure out what makes her tick. I don't use any techniques where I try and think of something in the past, I always look at it as my first time going through the moment and how I or the character would react to the situation. Same thing goes for rehearsal. I really don't like rehearsal. Only to learn my movements in a scene and so forth. I like to put my heart and soul into it once the director yells "action".
Do you have an interesting story that you'd like to share about a personal experience in filmmaking?
- A personal story. I have a horror story to tell about something which happened on my first film shoot, "The Bagman". That was a shoot from hell due to the DP or DP's on that set. It's a rather long story to tell. So I am not sure if I should type it all out here.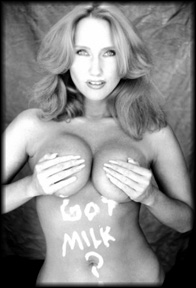 Have you always been interested in the horror genre? If so what is the earliest/first memory you have about something horror related that you enjoyed?
- I have always loved Horror films and anything related to horror. When I was a kid, I always watched Horror films. I loved scaring people, putting red tissue paper in my one doll's eyes and bring in my friends and tell them it was possessed. But I always loved horror. I loved haunted houses and going to cemetery's. Still do.
What projects have you recently finished and do you have any projects in the near future for us to watch out for?
- Lets see, as for me acting in a film for someone else, yes I have done a few films here recently in 2002 and 2003. I starred in, "Bloody Bender's Return" (which I co-wrote and co-directed) in September 2002., from Combs Pictures International. Then in February 2003, I starred in, "Dancing On The Dark Side Of The Moon" from Lime Street Entertainment. In April I flew to Ohio to shoot, "Slice N' Dice" from Vamping You Productions. As for ME and MY company, Silver Moon Productions. "The Bagman" is scheduled for video release July 22, 2003, distributed through Leo Films. My second film, "Evil In The Bayou", I am seeking distribution as we speak. "Tales From The Grave", which was shot in October 2002, is seeking an editor. I have scripts in mind for my next project BUT I am going to hold off for a few months before beginning it right now. I'm just focusing on getting these other films ready and distributed first.
Who is your favorite actor? Actress?
- I like Demi Moore and Robert De'Niro.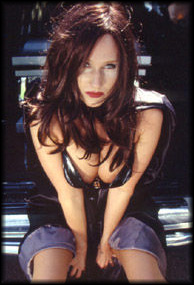 Are there any projects/scenes that you regret being involved with? If so, why?
- The film, "A Passion Network", I regret being involved in because it was very degrading how the director did the love scenes and they went on and on and I was lied to regarding the film. When we shot it, we shot it two ways, one with bra and underpants on during the love scene then the other wearing a patch and topless, well, the only scenes which were used in the final product was the nude scenes. There was no real sex happening but it's just the idea. So that film I regret doing and the amount of loves in the film. I have never done a film before where it's based on the love scenes rather then the script and I don't like to be apart of those types of films at all.
Who is your favorite horror movie villain and which of their films is your favorite?
- I like Michael Myers BUT only in the first two Halloween's.
For my final question, how do you feel about the direction that the horror genre is heading? Do you think it has gotten better or worse since your beginnings in the genre?
- I think the horror genre has gotten worse due to all the computer generated effects. I loved it when it was fresh, new and people didn't sit on the computer to create monsters like in "13 Ghosts". I wish it would all go in reverse and start seeing more films like we had in the past.

I couldn't agree more with you Stephanie.