When I first came across the stunning Monique Dupree, the first thought that came to mind was, "She needs to model for The Flesh Farm!" So, I threw her an email with the modeling offer and promptly got a response informing me that she was interested.
This got me thinking, "I shouldn't only be asking for modeling work, I should interview this woman!" I mean come on people! This is the first black scream queen to grace our, somewhat disturbing, obsessions known as the Horror genre! Well folks... here is the completed interview with the lovely and very talented, Monique Dupree. Enjoy you sick fucks and support this woman!

June 19th 2007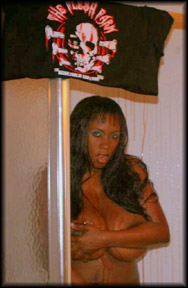 Thanks for this interview Monique! So how did you get interested in acting?
- No problem!! I'm honoured to do it. I think my family would say I was born an actress, lol. I come from a large family. I used to get together with my cousins & we'd put on plays and/or fashion shows on holidays. It was somthing that I've always loved to do..acting..It's most assuredly in me.
Being the "First Black Scream Queen" must be a great honor. Tell us what it's like?
- It IS a great honour! As far as what it's like..I don't feel like its any different from just being a scream queen. I just like to show that I have talent behnd the face...
Have you always been interested in the Horror genre?
- Yes!!! lawd yes, lol I've always loved horror..partial because it scared me so. But I'd wonder "how DID they do that?" or "I wonder what the actor/actress was feeling to do that?"
When did you first realize you were a diehard fan of horror? Explain please.
- I was watching The Fog..and there was something about when I was watching it (the original) that scared me..but made me want more..I wanted to see more actual gore..it was like a craving..I was hooked, lol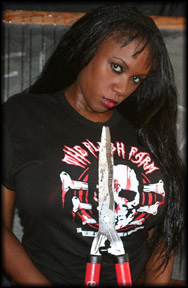 What has been your favorite film to work on? Why?
- That's a really hard call..I've been on alot of great sets...I would have to say Shadowhunters 2: Oria.. being on the set of that was great! lol I love watching John Johnson work (darkstone entertainment) and everyone on set was really cool & a little crazy, which is right up my alley. I'm glad that I've been working with them repeatedly..they're great.
Have any interesting stories to tell us from filming?
- I have lots of stories.., lol but the most interesting one would HAVE to be a scene that I can't really tell you guys about until the movie comes out (Skeleton Key 2: 667 Neighbor of the Beast) It'll be out in August and will play at horrorfind in august. But I will say that...you should NEVER have to be that close...to the directors' ass, lol.
If you had a choice of one legend in the Horror genre to work with, who would it be and why?
- I've always wanted to work with Bruce Campbell because, well, who wouldn't? LOL..It's been a dream of mine to work with him..I think that he's a great actor & I admire him alot.
You are obviously a very beautiful woman, so I'd imagine filmmakers are always asking for nude scenes. Do they up your pay if you agree to do a nude/partial nude scene? I've always wondered this.
- Well, I think that that depends on the actress. I've been asked to do topless scenes ..nothing nude as of yet. For me..it's not about pay..but most times, a filmmaker will come with a certain price anyway because they know that the character requires nudity.
How about family? Married? Children?
- Yes, I have a family..I have five children. Family is MOST important to me in my life. Its hard to have a family and do everything that I do.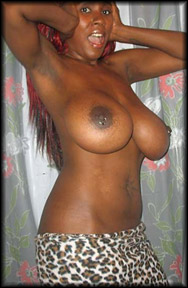 Where do you see your career in 10 years?
- Still acting, still writing poetry, still doing music (with my band Negro Childe) and enjoying time with my family.
How do you feel about the direction that the horror genre is heading? Do you think it has gotten better or worse since your work in the genre?
- I'm really not one to judge. What I WILL say is that there are alot of talented indie filmmakrs out there that deserve a chance to show more of what they can do...contribute their art to this genre.
If you could say one thing to your fans and the visitors of The Flesh Farm, what would it be?
- To my fans, I just want to say keep it horror!!!! And I also want to thank you guys for all of your support and love..and I'll never forget who brought me to where I am thus far...that's..the fans...you fuckin rock!!!! Bloody kisses xxxxxxxxxx