When I say "The Ultimate Scream Queen," I mean it! Ms. Linnea Quigley has been on the horror scene for well over 20 years and is still going as strong as she had when she started!
You know her from her most popular role as "Trash," the sexy punk/zombie in the film "Return of the Living Dead" and as "Suzanne," the slutty lipstick demon in "Night of the Demons." These films are just a sliver of the work she's done throughout her carrer.
Before we start I'd like to thank Ms. Quigley again for this fantastic opportunity! We all wish you the best of luck in your career!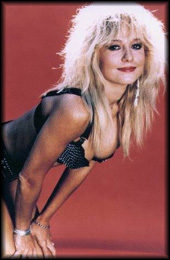 What projects have you recently finished? Do you have any projects in the near future for us to watch out for?
- I have film that premieres here on the 23rd, it's called Corpses Are Forever. I did a movie in Kansas called The Notorious Clollnel Stelle and then did Zombiegeddon. I've been working on the band alot since The Skirts haven't played in while so we will be playing the Screamfest here in Florida and record more stuff. I've been busy also working on stuff since my thing now is documentaries and trying to get a cool horror film off the ground. I did music writing and singing/guitar for The Notorious Collonel Steele, that was fun, and I have alot of stuff on my website as things come up at www.linneaquigleycircle.com Right now I'm signed to two films in July and September and some conventions also.
Out of all the films you've been involved with, which one was the most enjoyable to work on? Why?
- I don't know, they are all fun but working on Corpses Are Forever was fun... I was working with some really special people. I think the people you work for is so important but there is too many people I love working with so the list would be endless... and of course I loved how Return of the Living Dead turned out.
Do you have an interesting story that you'd like to share about a personal experience in filmmaking?
- Well I have written two books about the experiences I have had, I mean so many! I like the ones where I've saved animals in foreign countries and gone back a year or so later and they were there. One was a mommy cat who brought her litter in my room to save them. I had her spayed in Italy and when I went back and she came to my window and got petted, took off, and then I heard a muffled meow... she had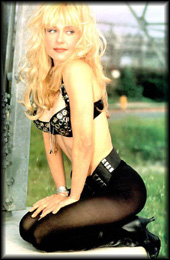 brought me a rat! Ahhhhh! There's lots of stuff I always end up rescuing. Animals my parents have... one from the Florida swamps I was still in L.A. which I miss so bad. While filming DeathMask I found a cat, a manx, it was wild so I caught her and my mom fell in love the cat. It stayed under the bed for two months but now she won't leave my moms side! She would have died... she was starved and had this parasite that would have killed her.
What is your favorite line that you've ever said in a film?
- Well of course the one from Return of the Living Dead! The whole thing about my favorite way to die. It's so way out there!
Have you always been interested in the horror business? If so what is the earliest memory you have about something horror related that you enjoyed?
- Like most kids I loved having my girlfriend over and watching the creature feature and the scary movies. Some of the older ones like Wax Museum and the old Twillight Zone, so I loved horror! Then going to the drive-in and seeing great ones like The Texas Chainsaw Massacre. Wow!
How do you like being considered a "Scream Queen?" It seems like it would be quite flattering.
- I love it! I think it's got a good ring to it and it's fun! I know alot of actresses don't want that title but it seems in the last 5 years they have wanted the title since I kinda went nuts and they had me on so many shows making it cool not stupid.
Who is your favorite actor? Actress?
- Favorite actor, oh god, ok I gotta say people I don't know... I think Antonio Banderras and Robert DeNero. For women Goldie Hawn, Susan Sarradan, and Merle Streep. It's hard... so many good ones!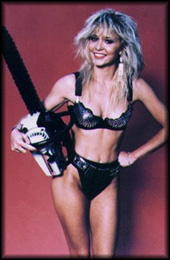 Are there any projects that you regret being involved with? If so, why?
- Sure I regret stuff I did but it all ended up getting me here. I might have been further or something but I'm here. At least I have the Scream queen title.
Who is your favorite horror movie villain? Favorite film they're in?
- Oh god that is hard! I don't know... Sigourney Weaver was mean in Snow White. But I hate the witch in The Wizard of OZ.... ohhh she took Toto. I hate that part! Also Cruella DeVille is hideous!
For my final question Linnea…. how do you feel about the direction that the horror genre is heading? Do you think it has gotten better or worse since your beginnings in the genre?
- I think House of a Thousand Corpses might help bring in something. I don't like the slick CGI horror stuff, it's not real and doesn't really show any real elements that are likely to happen, I'm a bit old fashioned in my horror and don't really like the Scream movies and all.