The Coolest Cat I've Ever Met
Tuesday, August 28th 2007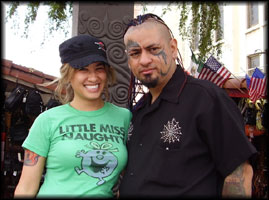 Filmmaker Tyger Torrez (aka Antonio Olivas) and I took a trip down to LA's historic Olvera Street thinking that maybe, just maybe, we'd see some ghosts. Granted, it was about 11AM on a sunny Sunday morning, but still, we had hope that something really creepy would happen. The only thing out of the ordinary that happened was that I broke my diet and had a tasty churro. It was a glorious thing.
I'd had the opportunity to watch Tyger's films Fright Club and Miner's Massacre before meeting with him so I knew what I was getting into. What I got into was a great discussion about ethnic diversity in entertainment today. And also talked about my fascination with Jeff Conaway and his appearance in Massacre. Who is Jeff Conaway? Let's just say I used to watch Grease twice a day. I was in love with Conaway's character Kenickie when I was 12. So, naturally, I was thrilled when I saw him show up in Tyger's movie.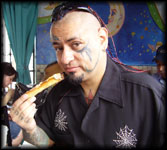 Tyger grew up in Boyle Heights in East LA with three brothers and a sister. His father used to watch John Wayne and Humphrey Bogart movies with him, which, of course, got him excited to make films. It was also one of his teachers, Mr. Root, in junior high that influenced him. While in Root's film club Tyger starred in a Latino version of Little Rascals called Our Little Rascals. The acting bug kept hold of him and carried him to college.
From East LA, Tyger enrolled at UCLA where he studied theatre arts. But he didn't finish up his degree. He decided that acting wasn't for him, got married, and enlisted in the army where he was stationed in Hawaii. After that hiatus, he realized his destiny was entertainment, moved back home and studied Cinema at Los Angeles City College.
A director and writer, Tyger is also a movie collector. He has a massive collection of DVDs compiled of a variety of genres. He'd like to make movies of every type. Although he has quite a few horror films under his belt, he'd like to make a children's movie someday and is currently working on scripting a historic drama about the Armenian genocide.
"I'm very proud to be working on the script and I just want to do it justice," he said.
He's won many awards for his scripts and has been part of writer's programs and has had fellowships. Obviously a talented person, Tyger has a great vision that carries his films. He wants to represent the urban and multi-ethnic side of life. Part of the way he does this is he writes roles for Blacks, Asians, and Latinos in his films. In fact, his film Fright Club is actually a compilation of three short films with stories from each of those cultures. No one can deny that there is an extreme lack of diversity in film today and Tyger wants to change that. It's not just diverse characters that he creates; he crafts entire plots. He penned a film called Lowrider Carwash, for godsakes. He's set on taking film to a more colorful, and realistic, level. As an Asian actress, I completely appreciate and agree with him.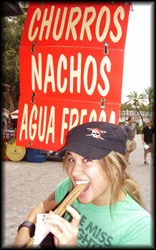 I have to add that while we were eating lunch, he didn't want the supposed award winning avocado sauce that came along with his taquitos. He said, "I don't use condiments. I have a very plain constitution for food. I make very extreme movies but I like plain food."
Ah, yes, extreme. No one can deny that the first thing they notice about Tyger is the inked skin. Not many people have face tattoos and on him, they are nothing short of badass. And even though he made a baby cry once and an old Asian woman in line at the grocery store called him a "Debil," to him they are a sign of individuality. He explained that while in Hawaii he learned of "Moko" or face tattoos that Pacific Islanders wear. All I know is they're really fucking cool.
Tyger believes in the moviemaking business. He's not just an artist who makes independent films; he appreciates it when movies are making money and, therefore, employing people in the entertainment business.
He said, "I'd like to do something budget mainstream movies, too. If they offered me Armageddon 3, hell yeah!"
Hmmmm…don't think there was a second installment of that film, was there? But I get what he's saying.
He revealed to me that he has " a fondness for guys in suits and animatronic monsters." He's also a fan of evil puppets. What monster would he like to show up on his doorstep someday? He answered almost immediately – Creature from the Black Lagoon. But how would he react to that since it'd be a little frightening?
"I'd be surprised but excited," he said, "Maybe he'd sit down and give me commentary."
For more info on Tyger and his work: www.myspace.com/psykocat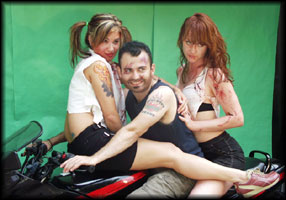 - photo by Rene Flores -
Before I sign off, I have to share with all of you a little about my experience on Sunday. I shot a trailer for a fake film. Heidi Martinuzzi and I starred as the two hot chicks in the trailer for Zombie

Shockers From Hell, which is supposedly a film written, directed, and produced by Danny Pineda. Story by Danny Pineda†and Daniel Manishevitz. Actually, the guys are fictional characters in this mockumentary (written and directed by David Wolf Perez) about guys trying to make this shitty film. I was dressed in a ripped schoolgirl outfit with my hair in pigtails. Oh yeah, to top it off, I was absolutely soaked in disgusting blood. I'll keep you posted on the production of this fun project.