Fire, Fango, and My Awesomeness
Wednesday, May 9th 2007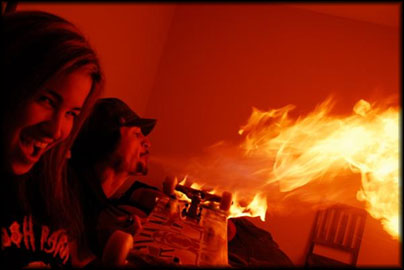 I'm proud of myself.
You know why I'm proud of myself? I'm proud of myself because I spent my Wednesday night installing an air conditioner in my little oven of an apartment. Yeah, that's right. I'm awesome.
Hollywood's unnecessary heat in the middle of motherfuckin' May was too much for me. And the fires at Griffith Park are so close to my dwelling that I couldn't leave my windows open last night. I was baked Princess this morning and it wasn't pretty. But, because of my sheer awesomeness, I am now cooling down nicely.
You want to know another reason I'm awesome? Last month I hung with pro skateboarder Ryan Simonetti and played with fire. Mostly, he played with fire dangerously close to me, but still it was dangerous and…the most fun I've had in a long time. For those of you who don't keep up with pro skateboarding, you might also know Simonetti as Steve-O's buddy. They were recently featured on MTV's show, Cribs. The whole thing worked out awesomely because Simonetti's friend, Rocky, a professional photog, was visiting and snapped some priceless photos of him blowing fire off his skateboard and through my legs. I will never forget him yelling, "the carpet's on fire." Fun times! He's promised swords and knives next time. I fear that these games might go a little far and by the time we're done with playtime we'll be playing with canons. At least, I hope these games go this far.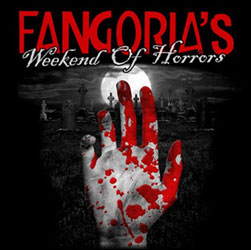 For those of you horror buffs out there (I would hope all of you are who are reading my column), you should know that the Fango convention is coming up the weekend of May 18-20 at the Burbank Airport Marriott. You'll find me there with my Princess Jolene beanie on, wandering around, surveying the masses. I'm pretty stoked because my friends from Girls and Corpses mag and Unhinged Cinema will be there. Congratulations are in order for my Unhinged boys because their first episode of The Roadside Killer is being screened at the convention. As you know, I just wrapped the filming of their second episode, the homage to Bob Clark's Black Christmas.
Celebrity guests expected at the festivities include Clive Barker, Eli Roth, Frank Darabont, and Neil Marshall…among so many others that I don't have time to mention. If you see me there, come say hello! And bring many offerings…
Here's some info from their press release:
"FANGORIA's Weekend of Horrors" is presented by Anchor Bay Entertainment, a Starz Entertainment Co., and co-produced by FANGORIA Magazine (www.fangoria.com), the world's most popular publication for readers who enjoy horror in film, television and other media, and Creation Entertainment, the leading entertainment marketing and merchandising company.


General admission tickets are available in advance for $20 Friday and Sunday and $25 for Saturday through www.creationent.com. At the door, general admission tickets are $25 each day. Tickets for children 7-12 are $15 at the door only, and children six and under are free with parent or guardian. Tickets for Shock-N-Roll Spooktacular will be $20 at the door. Show hours are Friday, 2 PM – 7 PM, and Saturday and Sunday, 11 AM – 7 PM. For further information, call Creation Entertainment, 818/409-0960 or visit our website at www.creationent.com