Shriekfest Entertained the Princess!
Tuesday, October 9th 2007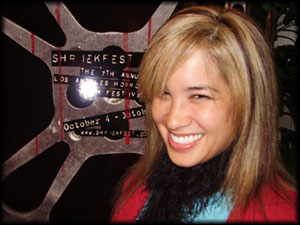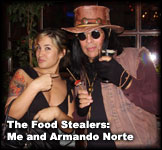 My crazy weekend started off with a fun night of stealing hors d'oeuvres. So? What are you saying? Are you saying I'm a little food obsessed? Psh. Like I don't know that!
Shriekfest 2007 kicked off its festival weekend at Joseph's Cafe in Hollywood. Although nice people wandered around with appetizers on trays, (mostly meat on sticks) I decided to periodically steal food from the wine tasting going on in the room next door. It's not like the people at the wine tasting realized it! They were probably trashed! Thanks to artist Armando Norte for being my partner in crime. He designed the festival program art and stole a cold falafel ball for me.
On Friday, fellow Flesh Farmer, Anthony Sant'Anselmo (he's also a filmmaker, a South Park animator, and best of all, one of my greatest LA pals) and I headed over to Universal Studios for their annual Halloween Horror Nights fun. First off, we thought we'd stop by the Eyegore Awards. Don't even ask me what the hell they were or happened there. I don't even know. Anthony said something to the effect of it being like a family reunion in a backyard. All I know is the appetizer selection stunk and of all the award winners, the only one who really looked like he was enjoying himself was Corey Feldman. You tell ME what that means. I'm speechless. Really.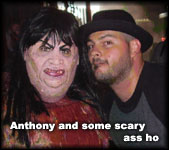 After the Eyegore Awards we decided to hit the Terror Tram. Last year was cool because they had all these awesome scary clowns and zombies all over the place. This year it was lame. And our first tour guide was some annoying chick who needed to be thrown off the tram. I'm just glad we didn't have to wait in line. The mazes weren't any better. About ten seconds in, we were told we had to exit the Friday the 13th maze because of technical difficulties. Apparently someone had lit a stink bomb or something. The Texas Chainsaw maze was actually pretty cool even though Anthony thought it would be funny to use me as a human shield the whole time.
I hate to mention food again, but I'm going to -- The food selection in that park SUCKS ASS. I didn't get anything to eat but a churro all night. Hungry Jolene is Angry Jolene.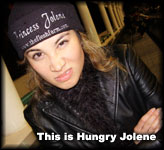 Really the only good thing about the night was going on the Jurassic Park ride. I made Anthony put my leather coat and Coach purse under his sweater so they wouldn't get wet.
Don't waste your money on this, people. I mean it.
Shriekfest kicked Halloween Horror Nights ass a million times over. I thank Festival Directors Denise Gossett and Todd Beeson for not only being so goddamned nice, but for putting on a very good festival.
Shriekfest is the Los Angeles International Film Festival and Screenplay competition that celebrates the horror, thriller, science fiction and fantasy genres. This year, their 7th year, it was October 4-7 at Raleigh Studios in Hollywood. Feature length films played all three evenings and shorts played during the day on Saturday and Sunday. I was extremely impressed with most of the films I saw. I watched a couple of the features on Saturday night, some of the shorts on Sunday and the last feature on Sunday night. Oh how I love short films! For me, an adult with the attention span of an infant, short films are the best way to do it. I saw a few little absolute gems on Sunday including The Un-Gone, a fun British Sci-Fi supershort written and directed by Simon Bovey. Also a standout was Summer Job, a British short written and directed by James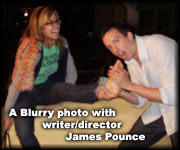 Pounce. It had one of the best foot scenes I've seen in a long time. I don't want to give it away, but it was pretty intense for a foot gal like myself. I enjoyed chatting with Pounce at the kickoff party when he revealed his love for the band The Lemonheads to me. I hadn't heard that band name since probably around 1994 so he instantly fascinated me. Hungarian short Now You See Me, Now You Don't brought tears to my eyes. Written and Directed by Attila Szasz, it was truly a beautiful film—beautifully made, beautifully written, and beautifully acted. Speaking of beautiful, I have to say that the lead actress, Lucy Dubinchik, in Lior Chefetz' short, Welcome Home was gorgeous.
I wasn't all that impressed by any of the features I attended. And, frankly, the last one made me want to shoot myself. The festival should have ended on a better note. Anthony Falcon's 99 Pieces was just a huge disappointment in pretty much every way. The synopsis sounded fabulous. I think

maybe if he had sold the script and had someone else make it, it could have been a better piece. According to the credits he pretty much did everything himself. He could have used some help.
Be sure to attend Shriekfest next year. And maybe you can bring me some snacks. I'd love you forever.