It's nearly Halloween but where's my sugar?
Thursday, August 9th 2007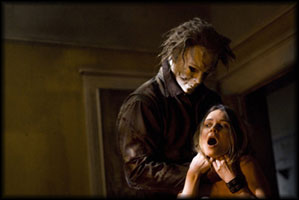 How many people do you know who have set their hair on fire? If you answered zero, scratch that, and change it to one. You know me. I set my hair on fire last week. I'm not proud to admit it, so let's do ourselves a favor and move on. I'm sure you're wondering why I admitted this to you. Maybe it's a way for me to cleanse my conscious. Either way, something better than the fire incident happened last week--something WAY better. I had a press call with Rob Zombie about his upcoming movie, Halloween.
If you don't already know this, it's not opening on Halloween. We're getting the goods early. It's like Christmas in July, only Halloween in August. It hits theatres everywhere August 31st.
Having seen Zombie's other films; I can't say that I was too excited for this one. I love his films visually, but I'm not a fan in any other way. And even after seeing his forum at Fangoria, I still was not impressed with what I saw. But something about his interview flipped my switch. I think I really liked hearing him tell it like it is. His manner of speaking is so matter of fact. On several occasions the other reporters asked him if the studio interfered with his vision and he pretty much just said he didn't know where the hell people were getting their info but that the studio gave him complete freedom. He "didn't compromise anything" for anyone. And he didn't feel pressure from the fans either to stay true to John Carpenter's original. Actually, Zombie called Carpenter to tell him about the project before he started. Carpenter told him to "go for it."
First off, Zombie met with Weinstein, who gave him the option to do whatever he wanted Halloween-wise. He thought a whole new movie would seem like a sequel and he didn't just want to do a remake. So he decided to do half prequel and half remake.
With all the remakes out there, how is his movie going to stand out? Zombie wanted to make a completely different movie and he does that by rounding out the character of Michael Myers. He shows Michael Myers as a child (played by Daeg Faerch-- I recall him from my days in the San Diego theatre scene, so I'm excited to see him on the very very large screen), shows more of Dr. Loomis (played by the always fabulous Malcolm McDowell), and, essentially makes Michael Myers a human being.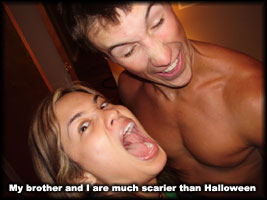 He discussed casting and how he didn't want anyone from the other films because he wanted everyone to be fresh. But, he said, even though Danielle Harris was in Halloween 4 and 5, he thought she was great and fit the part perfectly.
Regarding the characters, he said. "We kinda had to amp everyone up." Meaning, everyone is smarter and, well, more realistic to now, as opposed to bringing back the somewhat cardboard characters from the 70s.
And how it was filmed…Zombie told us that the film was basically shot in order. I love this kind of filmmaking. As a theatre actress, I appreciate this because of the character development. Because of the intensity of the emotions in the film, it makes sense that he shot it in order.
Will he be involved in anymore Halloween films?
"I came in and made a movie that was a self contained film and now I'm walking away," he said.
Ah… Halloween, candy, treats, cookies, and sugar… I've been on a diet and all I really want is a motherfucking cupcake. Just one. You know I have a horrendous sweet tooth. I can give up nicotine in an instant, but giving up sugar, it's like torture.
But I digress, obviously. Zombie said something that I really liked regarding backup plans:
"If you wanna have a band, don't have a good job. Your backup plan will become your plan."


Well said. That's why I never have any plans. I would never want to be the victim of a boring backup plan.

Upcoming columns will include an interview with Tyger Torrez (as I've been saying for a while now) and the Shriekfest Film Fest. So many horrific things in LA – so little time.

Don't forget to check out my interview with musician Keith Caputo up at www.mediummagazine.net and, as always, read my blog at www.myspace.com/jolenehui.