From the set of Roadside Killer: Episode 2
Tuesday, April 10th 2007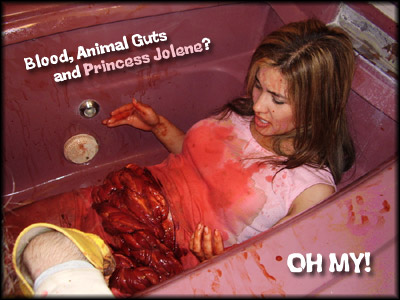 My fingers still smell like animal intestines.
Yeah, that's right. This vegetarian endured animal intestines and liver for her death scene in Roadside Killer: Episode 2.
An homage to recently deceased Bob Clark's Black Christmas, Roadside Killer: Episode 2 takes place during the Christmas season at the Roadside Killer's cabin. Packed with some great camera work (you're an awesome cinematographer, Slava Siderman!) and fantabulous acting, this horror comedy was so much fun to make.
Production day 1 was March 10. I decided to spend a couple of weekends with the boys from Unhinged Cinema for some bloody and torturous fun. Six of us traveled up in two cars to kick off the filming. The challenge for the day—how to shoot a Christmas episode in the middle of a warm spring. We were planning on doing all of the exterior shots and there wasn't much snow. I was taking on the persona of Gwen Garcia, the next victim of the gas masked wearing killer, Stanley Simmons aka The Roadside Killer.
The best thing about this short script is that it includes a fake flashback and a real flashback. We shot all of the fake flashback on the first day. Playing my significant other, Scott, was co-director, John Gonzales. Siderman, the other half of direction, was the genius cinematographer behind the camera. Jason Fenton, as always, was Stanley Simmons, aka the Roadside Killer. Jonathan Siderman came with us for amazing production skills and Megan Nicoll was the makeup mistress. She turned my usual zombie-type appearance into something semi-decent and did some great work on John's eye meat for his fake death scene.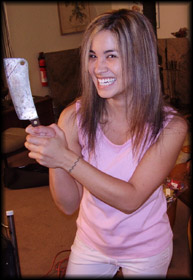 During the first day I was tied to a pole with Christmas lights in skimpy shorts, had fake snow thrown in my face, sprayed with blood, and at the end of the evening I was bombarded with loads of blood from a Hudson Sprayer. We were lucky enough to find a patch of snow for the whole "Jolene-tied-to-a-pole-in-little-shorts" scene. The guys threw some of the snow in a bin to take with us to decorate the cabin for when Scott and Gwen arrive. The cabin ended up decorated with Christmas lights and a miniscule amount of snow in the middle of beautiful springtime weather.
The last part of the fake flashback, when Scott falls into the tent with a mangled eye socket and side of his face, was the messiest of the day (the Hudson sprayer part). I felt like I was gurgling buckets of blood. The night ended up with a lot of "That's what she said," from every single male on the set. I felt like I was in a house with annoying older brothers. It was an eye-rolling extravaganza for me.
The second weekend of shooting was when they shot Roadside Killer's childhood flashback. My mom was visiting that weekend so I wasn't on the set, but I did see the production photos with young Stanley in his gas mask while his sleazy lookin' white trash mama smoked a cigarette.
Third and, theoretically, final weekend of the shoot was the weekend of April 6. The first night, Friday night, was a bit of a grueling process when I had to do about 26,000 takes of a phone conversation. It didn't start off my evening on the best note, but after that, things were pie. Gwen was dressed in a simple pink pajama set most of the time…with the exception of one scene where I was in a towel. My favorite scene of that night was when I got to read a magazine, sip cognac, and smoke a cigarette. The cognac tasted like rubbing alcohol. Give me a beer any day. That cognac nonsense is nasty!
Highlight of that particular day: Lunch at Big John's diner. Slava saying that the server was getting tattoos in the back instead of refilling our drinks. The server was so freakin' slow and at one point disappeared all together. The tattoo on his neck sparked Slava's comment. I laughed for hours about that one. Nothing makes me laugh more than a joke at someone else's expense. Especially when the joke is behind the person's back.


The second day of our shoot I spent the bulk of the time wrapped up as a Christmas gift. I began to feel claustrophobic as only my eye was exposed for most of it. I can't say too much as I'll reveal the end, but, yeah, Gwen Garcia is mutilated by the Roadside Killer. I spent the wee hours of the morning in a bathtub of fake blood with animal organs. I had to keep my nose closed up as I would have yakked all over the place. Intestines, liver, a severed limb, a knife, a mallet, and a saw…ahhh…the end of Gwen Garcia. It was after 6AM when we wrapped. I was half asleep and exhausted. The movie making biz is not easy work.
I'll keep everyone updated on the progress of edits and if we need to reshoot! For now, check out our sites, my gore loving friends!
Please visit www.myspace.com/jolenehui for more information on me and go to www.unhingedcineama.com or www.myspace.com/unhingedcinema for more on the film.