The Princess Gets Serious with Palumbo
Thursday, April 26th 2007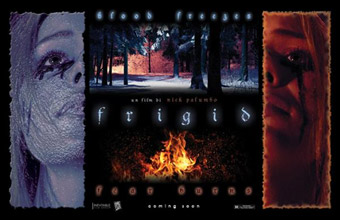 Not only am I a nerd, I am a goofball. And when I interview, I tend to get even goofier.
Well, it wasn't exactly possible with writer, director, producer Nick Palumbo. When he showed up to the diner where we agreed to meet, he was all business. He'd been really sick for a week and a half and yet still showed up to watch me inhale a big plate of sloppy spaghetti. He sipped a Sprite and I oinked down my slop while scribbling down answers to my questions about his notoriously violent film, Murder-Set-Pieces, and about his future projects.
Honestly, this was one of the toughest interviews I have ever done. I've been interviewing people journalistically since the age of 12 and this was, by far, the most difficult interview I've ever done. Palumbo's a tough nut to crack. And I began to feel uncomfortable with his seriousness. He made me get down to business and I did, with my garlic toast and iceberg lettuce salad…oh, and him, I suppose. Basically, what I'm saying is I had to feign professionalism with a mouth full of bleu cheese.
Born in Washington D.C., Palumbo began reading and writing at age 4. He estimates that he has written a hundred screenplays in his life. His love for history and film (including directors Werner Herzog, Stanley Kubrick, and Roman Polanski) that began at a young age led to his career of passionate filmmaking.
Palumbo told me our interview would probably be his last interview for Murder-Set-Pieces, which came out in theatres Christmas Eve of 2004.
Now for my commentary on this film that was banned by a plethora of film festivals and the three major film labs in the biz… The film, shot on 35mm, is a look into a serial killer's life. The killer, an unnamed photographer played by Sven Garrett, blasts through a dingy Las Vegas murdering women and children. My first thought when I watched the movie, was wondering if Palumbo had spent all of his slightly over 2 million dollar budget on naked women, blood, and Nazi memorabilia (the main character loves Nazi shit and his grandfather was in the SS). He sure as hell didn't spend it on acting skills, because that was actually the weakest part of the film. Although cute as a button, the female lead, played by a young Jade Risser, made the film difficult for me to get through. Really, the only person who stood out as an actor in the film was Tony Todd of Candyman fame. He played an adult video store clerk. The highlight of the film, besides the bathtub scene, was when he said to the photographer, "You look like a fuckin' degenerate cock." I love you, Tony!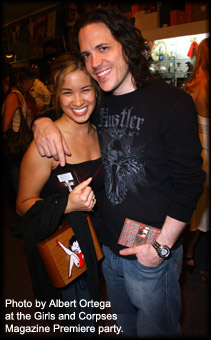 The look of the film was pretty cool, actually. I give props to the Director of Photography, Brendan Flynt (Tromeo and Juliet, amongst others).
Palumbo's knowledge is not just a guess on how serial killers work, he studied them for years and visited crime scenes for a first hand look at the wreckage.
"Criminals are more interesting to me than normal people," he said. Of course-- delving into the minds of criminals is definitely more interesting than a Sunday picnic in the backyard with Dick and Jane.
The horror community did not welcome this slasher flick with open arms. Palumbo said, "If you're not doing bubble gum jock horror, they're going to ostracize you." And Murder-Set-Pieces has nothing bubble gum about it. It's a look into a serial killer's life. And that ain't pretty.
Although European audiences were more welcoming, a mere 20% of American audiences made it through the entire movie.
"People don't want the truth," he said. Which makes me wonder what the deal is with me. I watched the entire thing straight through, not blinking an eye.
Palumbo's next project, in association with Fright Flix Productions and Inevitable Film Group, is a film called Frigid –a film about five young beautiful schoolgirls in the Carpathian Mountains. It's a horror thriller that will be filmed in Germany, Romania, and Bulgaria in September.
After Frigid, he has other projects in the works with Inevitable including a Civil War Western about the Missouri-Kansas border wars and a Dark Drama Film Noir movie. He explained the Civil War drama as a "surreal look at a savage time in American History." It's a love story and a brutal western of epic proportions. He wants to produce Major Hollywood movies and eventually win an Oscar.
The last major question was about his extremely dark eyes. He said, "People all my life have commented on my black eyes...no one else in my family has them. "A woman once asked me if 'I was related to John Wilkes Booth.' I said, 'Only in my fierce determination to do what I believe in.'"


Well said, my brown-eyed brother!
Toward the end of the interview, Palumbo began to interview ME about my career. He grilled me on career goals, drilled into me that I need timelines, and scolded me a bit. This puzzled me. I already have parents, three, actually. I don't need another one. After thinking about it for a while after the interview ended, my response to him is this: "Hey, Palumbo, the next time my mother is in town, she needs to toss you over her knee and give you a good spanking. That'll teach you for attempting to give me fatherly advice, damnit."
http://www.frigidfilm.com
http://www.myspace.com/frigidfilm