Give Me Sugar to Make Me Happy
Sunday, July 15th 2007
I know you all miss me. You can admit it. That's the first step in recognizing your illness. I know you've got an "I-love-Princess-and-can't-stand-to-not-hear-from-her" illness that needs a quick remedy. Well, it's a good thing I recognize your disease and feel like helping you out right now. It's fucking summer here in Los Angeles, kids. And I'm fucking boiling… tired…and working on way too much.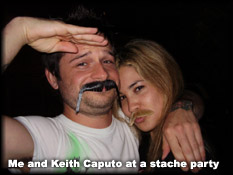 Just wanted to say that I'll be back soon with a new column. I've been busy setting up some interviews and writing a ton of other stuff. I was slightly itching to go to the zoo known as Comic-Con this year but I never heard back from the PR people. I wrote them a couple of times and didn't hear a damn thing. I think I'd rather steer clear of the horribly claustrophobic and sweaty event this year anyway. It ain't worth that hellish drive to San Diego. Instead I'll be talking to filmmaker Tyger Torrez, actor Eric Spudic, and the madman behind Terror Toons, Joe Castro, in upcoming columns.

I'm currently working on an interview with musical genius Keith Caputo for Medium Magazine (www.mediummagazine.net). His latest album, A Fondness for Hometown Scars, will be out soon and I recently had the opportunity to delve into his brain. The interview is scheduled to appear at the end of this month. In the meantime, peruse his site and his music.
www.keithcaputo.com
www.myspace.com/keithcaputo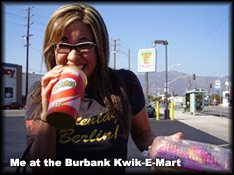 Speaking of publishing, I just found out that writer Michael Hemmingson dedicated his book How to Have an Affair and Other Instructions to Princess Jolene of Hollywood, fellow smut writer, expert on the art of having affairs.
Um, yeah. Um. No comment. The book will be out this fall.
The Hemmingson penned film The Watermelon is in production here in LA and is being directed by Brad Mays. Check out the link to the official site as well as to the IMDB page (you'll notice my name listed).
www.thewatermelon.net
www.imdb.com/title/tt0945521/fullcredits#cast
And don't forget, I'll be starring in Stations, a film also penned by Hemmingson.
www.stationsthemovie.com.
While you're checking out all of these fantastic links I'm feeding you, also check out my boys Supafloss. All I can say is they're fucking hilarious and I love them. Listen to their music.
www.supafloss.com
www.myspace.com/supafloss

I made a trip to the Kwik-E-Mart in Burbank this afternoon and a trip to West Holllywood eatery, Toast, this morning. I'm now staring at three doughnuts and three cupcakes. Hold me back! HOLD ME BACK!
Find your local Kwik-E-Mart and I'll be back shortly!
www.7-eleven.com/kem.asp