Sex and Gore are my life
Monday, February 5th 2007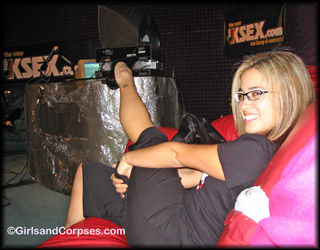 Hello to my lovely gore fanatics. Just wanted to check in with you to let you all know I'm still slicing, dicing, and bleeding my way through Hollywood. My life is a haze of sex and gore. I wouldn't have it any other way.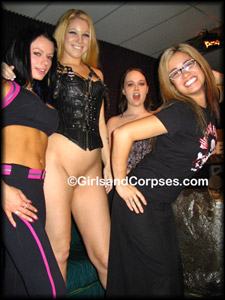 Recently, I was recruited to write a necrophilia story for Girls and Corpses Magazine. Editor/Publisher Robert Steve Rhine was kind enough to invite me to KSEX radio with him and Girls and Corpses staff member/pornstar Hollie Stevens. So on Thursday, January 25th, I somehow made my way in a migraine haze into the Burbank studio where KSEX is recorded. In the waiting room I was greeted with the most disgusting stained couches and floors I've ever seen. I said something like, "C'mon, they've gotta have the time to clean these fucking carpets." And speaking of fucking, I think that's what caused the stains in the first place. Needless to say, I didn't sit down in the waiting room. When I actually went into the studio, I was greeted with leather couches. Of course, Hollie had been sitting on one with her bare pussy (which briefly housed a beer bottle), but still……at least she wasn't sitting on fabric. Leather is more forgiving, right? Rhine and I sat on the couch next to the porn chicas and I got to say about three words because, well, I was fully clothed. And fully clothed girls can't compete with pornstars fondling each other's nipples. But it was all good. I gave the Flesh Farm a shout out, along with a promo for a couple of upcoming books where my stories will appear (A is for Amour and Got a Minute both edited by Alison Tyler and published by Cleis Press).
The life of a princess is never boring.


For my next column, I'll be attending the Haunt X Xtreme Halloween Xpo that will be at the LAX Hilton February 15th-18th. Were you under the impression that Halloween is in October? Well, you're in luck! HALLOWEEN IS EVERY MOTHERFUCKING DAY OF THE YEAR! And to celebrate, I'll be immersing myself in the activities of this glorious expo. Films, Vendors, George Romero, and a gazillion other things…..heaven….absolute heaven. I'll be taking some good notes and reporting back to all of you disgusting creatures! In the meantime…be bad. Be very bad