Jesus really does love me
Monday, November 5th 2007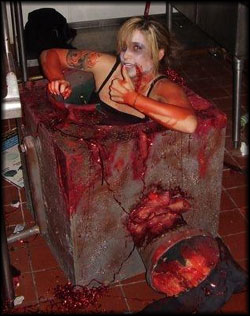 Jesus really does love me. Check the photo. He's hugging me in adoration and pure joy. Granted, it's not the real Jesus.-- it's Kato Kaelin dressed as Jesus. But he's standing in a heaven-like setting with a gown and a cross so it must be valid, right?
I spent my Halloween in a meat grinder in hell in the Hollywood Hellhouse (www.hollywoodhellhouse.com). It ended up being the perfect way for me to spend the occasion. Screeching at people and screaming in pain while drenched in blood is ideal for the day, don't you agree? I went to a party in Hollywood the Saturday before (Prom of the Dead themed). So, essentially, I celebrated Halloween from Saturday to Wednesday! Or rather, early Thursday morning when I tried to navigate my way home through the masses of West Hollywood traffic and annoying dressed up drunkards. JP Butcher was kind enough to keep me level over the telephone. Without his calming words I would have pulled the axe out of my trunk and chopped some people in half. 'Tis the season, though, right?
So what's the point of this update? I just wanted to stop in and say hello. Been busy over here in hell and drenched in blood. I'll be coming back soon with an interview with filmmaker Rolfe Kanefsky. His movie, Nightmare Man, is playing as part of the 8 Films to Die For in the After Dark Horrofest November 9th-18th.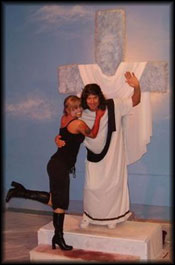 Here's the synopsis:
After receiving a mysterious mask, Ellen Morris believes she was attacked by an evil being she calls 'Nightmare Man'. Her husband, Bill, believes she is crazy. On their way to the mental hospital their car breaks down and Bill goes to get gas, leaving Ellen alone. When Nightmare Man appears, Ellen takes off into the woods, unsure whether she is hallucinating or not. She stumbles upon a cabin filled with friends who unknowingly becoming prey the moment Ellen steps inside.
Other things of note:
1) I'm working on the ABOUT ME section of my website. Comedian and all around funny dude Bennie Arthur helped me out. I'll let you know when that's complete.
2) My story, BANANA AFTERNOON, will appear in Sex and Candy edited by Rachel Kramer Bussel and published by Pretty Things Press sometime this month. Official release party is December 14th in NYC,
3) Shooting a kickass end scene for Roadside Killer ep. 2 in a couple of weeks. Expect massive amounts of blood and gore.
4) My mom is visiting starting on Thursday! Party Time!!!!
See you all very soon and thanks for being so kickass wonderful