Writer Murders Thousands in Amusement Park Massacre
Friday, October 13th 2006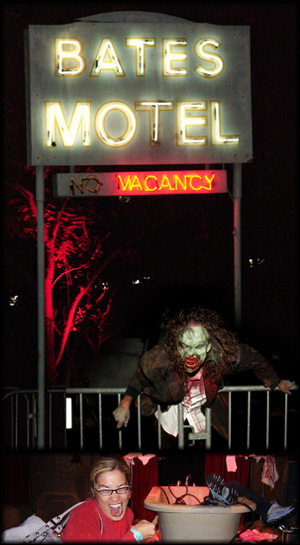 Five words. Tuna Fucking Tar Fucking Tar.
It made me puke. Literally made me puke. While I've always looked forward to the free food at press events, I should know to steer clear of things like raw fish and crab cakes. But, no, I just can't seem to resist free food when it's offered to me.
On the way home the conversation went something like this:
"I feel sick."
"Drink some Pepto Bismol."
"Nope. I think I'm going to yak."
"Don't forget to brush your teeth when you're finished."
Such a caring friend I went with. Luckily, I had gripped his arm so tightly during our time together that evening that it fell off in my car. I think it's still in there, as I had to run up to my toilet to puke up the precious free press food.
Why did I cut off all circulation to his arm, you ask? Because we spent the evening at Halloween Horror Nights at Universal Studios Hollywood.
Prior to the amputation, we attended the press event. After ingesting raw fish and sprite and admiring the dÈcor that included a bloody jester tied to an electric chair (I looked at it and simply said, "that's fucking weird."), we witnessed "Zombie School Graduation," which was a continuation of the "Zombie School 101" class that I saw last week. It was all nice and fine and good and bloody and zombietastic, but we wanted to get to the real deal--the amusement park, all tricked out Halloween Style.
Almost immediately when we walked out into the fog clouded cobblestone streets, we were approached by a plethora of crazies dressed in gruesome costumes. This was pretty much the one thing I found a little frightening and cool. I liked the guys running around with chainsaws and women running around with bloody bosoms while holding their intestines. Good stuff.
Now for a little background--Halloween Horror Nights supposedly uses the concepts of "The Director," a mysterious horror genre auteur whose warped vision caused him to be official banned from the Universal lot. Apparently this psychotic director swore revenge on the studio and vowed that his violent and horrific production would go on, with or without the blessings of Universal Executives.
The highlight of his vision is the "Terror Tram" attraction. For the first time in the studio's history, guests are allowed to walk through the film sets of Psycho and War of the Worlds. I can't give all of the frightening aspects away, but I have to mention the clowns. If my sister had been there, she would have had a heart attack. Killer clowns with weapons roam the area outside of the Bates Motel. And the zombies in the War of the Worlds wreckage are absolutely fantastic.
Other themed horror zones include, The Asylum (a maze of horror), the House of Horrors (had a 75 minute wait), Chucky's Insult Emporium (where I was warned of adult language and didn't hear or see a fucking thing but a puppet type set, a spotlight, and some loud music), Carnival of Carnage, Fear Factor live: Dead Celebrity Edition, The Mutaytor Concert Performances, Terminator 2: 3D, and some other shit. Was there even a map of the place anywhere in the park? I don't think I saw half of these supposed "horror zones" and there were so many damn people there that I didn't even get to visit most of the attractions.
The price tag for waiting in those kinds of lines is too steep. Gotta love amusement parks. If you don't mind lines, then you might actually fully enjoy the attractions. I wished I had brought my axe and made my way through the crowds that way—swinging it haphazardly and causing much bloodshed. I would have been able to see the House of Horrors and gotten lost in The Asylum. Unfortunately, I wasn't equipped with any weapons.


If only I would have brought my axe to bloody my way through the crowds. If only I hadn't eaten the Tuna Tar Tar. Oh well. There's always time for murder at amusement parks, no matter what time of year. This experience comes to life for seven nights over the course of three consecutive weekends: October 13-14, 20-21, 27-28 and 31 beginning nightly at 7:00PM. Advance tickets are available online at www.HalloweenHorrorNights.com and range in price from $34.00 to $39.00.