Rape, Stinky Rice and a Poodle named Bud
Tuesday, November 22nd 2006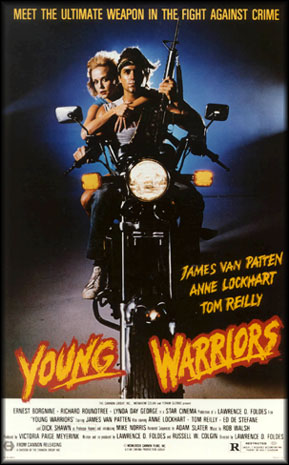 Any movie experience where the entire crowd boos when a Poodle gets shot and killed earns an A+ in my book. And Bud the Poodle's death in the movie "Young Warriors" was definitely the most disappointing part of this 1983 B-Movie Masterpiece. I was more disgusted by this than by the rape scene. That's right—RAPE AWAY—BUT DON'T SHOOT POODLES!
I sat in the audience of the Grindhouse Film Festival last Tuesday night wondering where these interesting people surrounding me came from. What planet had I landed on? Everyone was so enthusiastic about watching these movies. I felt like I had been magically beamed into some kind of underground crowd with veggie fried rice from the cheap Chinese place across the street in hand. My friend complained that everyone was looking at me when I dug into the greasy mass. But what's a B-movie without shitty Chinese food? Nothing, I tell you. Nothing at all.
Young Warriors was a tastefully shitty movie (much like the fried rice) starring James Van Patten (that's right, Dick's son who was in the audience and gave a little shout out before it started) and was the first of two that night. Basically, the movie is about a frat boy who turns crazy vigilante when his little high school aged sister is raped and killed by a gang of biker dudes in a black van with a skeleton painted on the side. He and his buddies take justice into their own hands and end up just fucking things up. That night the crowd was special enough to see a version of the film that had only been seen once or twice before. And we're talking the actual film on which the movie is printed. When the director, Lawrence D. Foldes, made his introductions, he told us that the version we were about to view was one of the original X-rated versions of the film. I figure that when the gangsters cut off the teen's clothes and gang raped her earned it the rating.
And, yes, I understand that I'm not talking about some bloody murder fest movie for all of you gore lovers, but I thought we could use a change of pace. And next month is more your pace. On Tuesday, December 19th, the Grindhouse Film Festival is set to present the original Black Christmas as well as Silent Night, Bloody Night. And naughty or nice (inevitably naughty), I'll be there.
If you're confused, like I generally am, here's a bit more info: The Grindhouse Film Festival events feature the screening of rare 35mm prints of cult and exploitation films from the 1960's through the 1980's, many of which have not been publicly shown since the drive-ins and inner city grindhouse theaters faded away twenty years ago. And since 2002, the local monthly fest has been held at the New Beverly Cinema.
One of the best things about these events is the fact that it's only $7.00 and the audience is treated to two movies, a FREE raffle, some rare trailers, and appearances by directors, cast, and crew of the films being shown.


The raffle on this particular night included movie posters, some Young Warriors berets, sex toys, and some great sounding horror porn. Unfortunately, this took so fucking long that I was snoozing in my rice and ready to throw my stale fortune cookie at the screen. The second movie of the night was "Malibu High" but by the time they hit the "Q &A" session after Young Warriors I had to leave because I would have snored through the whole thing. I had to drop my friend off and sleep before work in the morning. Sheesh.
The fest might be coming to YOUR city. They did their first outside of LA event in July in Las Vegas. It was a sell-out so they're headed back again in early December with another double feature. For their December Grindhouse in Las Vegas they'll be showing Blood Feast and I Drink Your Blood, with the first film being introduced by star Connie Mason.
For additional information and schedules for upcoming events, visit their MySpace page at www.myspace.com/grindhouse.