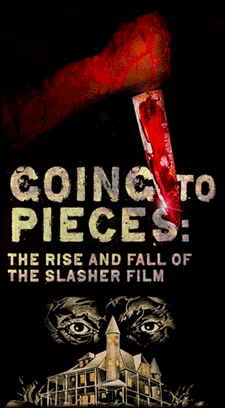 This film provides a comprehensive and original look at the importance, prominence, and legitimacy of the "slasher film." This feature-legnth documentary contains an abundance of clips from classic films of the genre, as well as many current hits, and interviews with pre-eminent actors, directors, and producers, many of whom are themselves founders and masters of the genre, such as directors Wes Craven, John Carpenter, Rob Zombie and special effects wizard Tom Savini. Harry Manfredini, who did the score for the Friday the 13th films, has composed music for the special.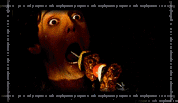 "Brilliant documentary on the slasher genre!"
- TheFleshFarm.com
---

When I was contacted by Starz Entertainment to review Going to Pieces: The Rise and Fall of the Slasher Film, I was naturally skeptical about how the depth and quality of the documentary would turn out. Lets face it, hundreds of "wannabe" filmmakers have attempted over and over again to try and dip their greedy hands in the slasher genre, only to produce a laughable shadow of what a true documentary on this honorable genre should be. Well... Starz delivered.
This documentary is jam-packed full of information, interviews and behind-the-scenes footage that, even I, was not aware existed. The sheer volume of knowledge that can be learned from this documentary is overwhelming. I've sat and watched it twice already and still feel my brain can absorb more gory goodness from a couple more rounds.
The score is one of the highlights of the film. It amazes me how Harry Manfredini can whip up a score of this caliber with the short time which is normally the case when making a documentary. Its shrieks and moans somehow match up with the scene in question... for example, when scenes from A Nightmare on Elm Street are being discussed, the score is obviously not that from the Nightmare film, but somehow blends to convince the viewer that there is something new. Making the scene seem fresh and exciting again.


Overall, I highly recommend you tune in to Starz this October for this masterpiece of horror. Lets just hope the distributors take a hint and get this out to the masses on DVD. It would be a shame to see such a gem lost in the shooting-barrel of horror documentaries.