Fango 2008
Thursday, May 1st 2008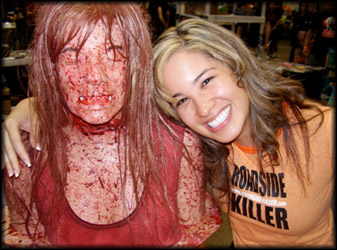 I was simply not wowed by this year's Fangoria convention at the LA convention center. Part of the charm in years past was the conveniently located bar in the hotel - a place to sneak off and have a beer or three while manning your booth or wandering around. Lack of lounge facilities aside, it ended up being a good way to catch up with my friends and especially to promote the Roadside Killer episodes with the guys of Unhinged Cinema. The horror world isn't exactly booming right now. Can you list any big horror movies that need promotion right now? (Nah, me neither, hence the lackluster convention) Thank God for my entertaining friends!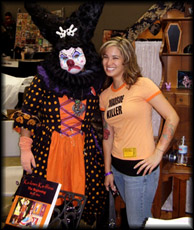 One of the cool things about this year was the person who got me way into the genre (besides my mom) came up from San Diego to join me on Saturday. He was able to see what I've been doing with all that mind warping he assisted in years ago. Thanks for helping with my dementia, Tim!
Most of the vendors kicked a lot of ass. Especially the guys at Sprfkr. That was the most entertaining booth in the whole damn space. Not only did they have awesome shirts, they kept me laughing for two days. Another clothing booth that rocked was the Zombie Rock Apparel one. The shirts were also cool and were being peddled by Wyatt Hewison -Vice President of film company Hewison Circus.
Other booths of note were the Ink-n-Iron tattoo booth (they judged the horror tattoo contest) and the Universal Studios Halloween Horror Nights booth. Sure the booth looked cool, but I'm sure the actual theme park is going to be a disappointment again.
The large space was great but it made it a little hard for me to focus. I walked right by my friend Christopher Alan Broadstone from Black Cab Productions without even noticing he was there. Apparently the over stimulation in the oh so large room numbed my eyes. He shared his booth with actress Bianca Barnett and gladly shared his can of mixed nuts with me. For that I will be forever grateful. The guy from Terror Optics Film was friendly and gave me a copy of his film, Goregasm. Not gonna lie - I enjoyed his New Orleans accent. There were other booths that didn't really interest me – ones for horror movies that looked simply gory and didn't interest me in the least.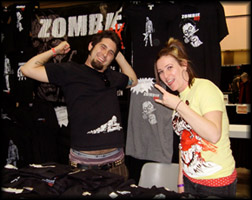 You don't even need me to tell you what the best booth was in the whole place – the Roadside Killer booth! John Gonzales and Slava Siderman did a great job putting it together. A painting made by Armando Norte, a movie poster, and a mannequin wearing the Roadside Killer's outfit sat behind the table and on the table was my poor bloody double, my bloody leg, and a gas mask. I have to give major props to all involved with that booth.
This year was the big Psycho and Night of the Living Dead reunions. Call me uninformed but I didn't even know there was anyone alive from the first Psycho. What I do know is George Romero was charging way too much for autographs. ALL the autographs were way too much. What the hell is with charging for autographs anyway? It's a fucking signature, people! Speaking of Night of the Living Dead, Judith O'Dea (Barbara from NOTLD) raved about my tattoo.
Frankly the panels were extremely disappointing. It's going to be a hot action flick summer but as I said before, horror is lacking. The one panel I made an effort to attend was the Fear Itself panel. The hour-long show is going to appear on NBC. Five writers sat up on the stage and rambled. Other than the amazing Johnathon Schaech eye candy, it was a bore. When I looked over and saw Tim looking like he was sleeping with his eyes open, and I was about to sprawl out over the empty seats beside me and snooze, I figured it was time to exit the panel. None of the other panels interested me.


Strangely, I think even the Haunt X convention last year was better than Fango this year. Although the bigger space was cool, just didn't feel as personable as it was in Burbank. Going back to the booze thing, everyone kept talking about hanging out at the Holiday Inn afterwards and I felt like it was high school prom night and the cool kids were getting a room. Maybe next year I'll be one of the cool kids?
Thanks, as always, for reading! Like usual, I have a lot going on. One thing I want to push is the exhibit I'm hosting on May 9th. See the flyer below and go to www.feminineoddities.com for more info!