For the love of gore
Saturday, September 29th 2007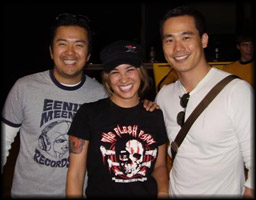 That was one of the most frightening things ever. Seriously. Ears plugged, open mouth covered, eyes covered, and a mere two holes for my nostrils. Holy hell. This is what happens when you have to make the best product ever—if you want perfection. Since everyone involved in the Roadside Killer Episode 2 decided the gorier the better is the way to go, we're going to do some pickups to make sure the gore factor is at its high. I dig this, as I don't mind a little, or a lot, of fake blood.
In order to complete read the perfect Roadside Killer product, I had to have a mold made of my upper body last night. I'm extremely glad that the man taking on this task, Simon Garcia, knew what the hell he was doing and worked quickly, because I could have freaked out, threw myself off the chair and torn off the goo and bandages like an animal. But I sat there, gripping the director's hands and whining like a puppy. Mind you, I am not claustrophobic; it's just that if you have what feels like mounds of shit wrapped around you blocking all of your senses and one of your major air holes, it's kind of freaky. No one thought I'd be able to do it at first because right before Simon covered my face I announced, "Oh my god. I'm freaking out."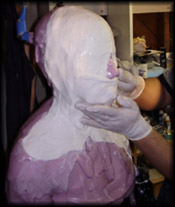 But, goddamnit, the Princess has to follow through. And I made it out alive so that I can have an appropriate death onscreen.
I have a public photo album up on my myspace page if you're interested in seeing me in the various stages of discomfort. Go to www.myspace.com/jolenehui and go to the Lifecast – 07 album. And, as always, check out Unhinged Cinema at www.unhingedcinema.com. I saw a rough cut of Episode 2 last night and I was very impressed.
Last weekend, I went to the LA Comic & Sci-Fi Convention to see the panel for the film Finishing the Game, by talented filmmaker Justin Lin. He made one of my favorite films, Better Luck Tomorrow. Finishing the Game is a comedy about finding a replacement for Bruce Lee for his film Game of Death, which he left incomplete when he died. I was so excited to meet Lin and actor Roger Fan. Can you tell in the above photo? The film opens August 26 in LA at the Landmark Nuart Theatre. I will hopefully be covering the event as Bruce Lee was the biggest badass of all time and Lin and his cast are fabulous.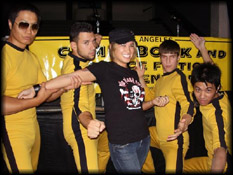 Watch the hilarious trailer and get more info at: http://www.youoffendmeyouoffendmyfamily.com/
Next weekend is the Shriekfest film festival. Shriekfest Film Festival's 2007 lineup includes such recognizable names as Dave Foley, Judd Nelson, and†Robert Wagner starring in "Netherbeast Incorporated," Kevin Sorbo in "Something Beneath," David Morse and John C. McGinley†in "A.W.O.L," and Christopher Marquette in a sneak preview of "The Day the Dead Weren't Dead." The roster encompasses 44 films and 32 screenplay finalists.† Awards will be awarded in 15 categories, including an award for the Best Under 18 filmmaker.†Festival Directors Denise Gossett and†Todd Beeson oversee Shriekfest, now in it's 7th year. Go to www.shriekfest.com for more info and tickets.


Also opening next weekend is Halloween Horror Nights at Universal Studios! Not sure if I'll be attending yet, but I encourage everyone to go. http://www.halloweenhorrornights.com/
Happy Halloween month, everyone!