My Day at the Erotic Circus
Saturday, June 23rd 2007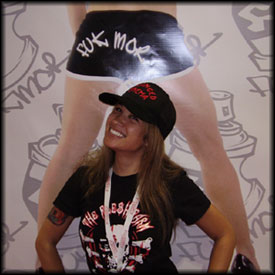 I nearly escaped without anyone asking me if I was some kind of pornstar. I said NEARLY. And it's not like the guy actually asked me if I was one. He looked at my hat (I was wearing my Unhinged Cinema Hat), asked me for a card, and then mumbled nonsense alluding to the fact that perhaps I had done those kinds of films. My good friend Ivan, director for Anabolic, told the guy that, no, I did not, in fact, do those kinds of films and that I was a mainstream actress. Then the guy pretty much walked away saying something about Sylvester Stallone having done a dirty movie. Ivan, not helping the situation said, "You gotta start somewhere!"
On that final note, I gave Ivan a hug, said farewell to the Anabolic PR guy, and got the hell away from the Erotic LA Convention center in downtown LA.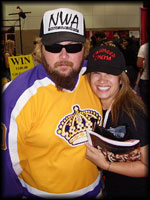 The convention, which runs June 22-24, was a madhouse, to say the least. Luckily, I got there early on Saturday. I figured that Saturday was the best day to go. And I was sure to go early to take full advantage of all of the booths. It was a bit bigger than I had imagined it would be, but really not as impressive as it should have been. The left side of the showroom had all the porn stuff and the right side was all of the toys and fun stuff like that. I had to check in at the pressroom first where I signed a Rules and Regulations Acknowledgement form. Included on that form was a little something about flashing being illegal. And I'm not talking about cameras flashing. Yeah. So, I had to sign a form that said I wouldn't flash anyone. Not an issue there, kids! I was sure to dress as frumpy as possible as to not attract any kind of attention to myself.
Upon entering the showroom I saw my boys from Fukmor clothes. They have some cute little ditties. They had actually given me some teeny green shorts at a show I went to months ago that I ended up wearing during the Roadside Killer shoot. I made a run through the porn side of the floor as the Pornstar Karaoke blasted throughout the room. Wicked Pictures was at the front and center of it all--with good reason as their girls are super sexy.
As for things purchased, my sole item was a leather necklace from the Radiance Bound booth. Its clasp is a heart lock. It came with two keys. Ooohlala—and one of the keys have already been promised to someone so don't any of you get any ideas. Check out their sweet leather jewelry and such at www.radiancebound.com.
What seemed to be all the rage were glass dildos. Apparently they are hot items these days. There were more than a couple booths selling these seemingly dangerous items. I guess the appeal is that it's easier to keep them clean and you can warm them up. Not sure how I'd feel about a warm glass dildo, but all right. One of the weirdest things I saw on the floor was a Torso Doll. Made of silicon, this doll has very real looking breasts and a vagina, but no limbs. I was told that it's lacking limbs for "functionality" purposes. For example, it is easier to handle and easier to store.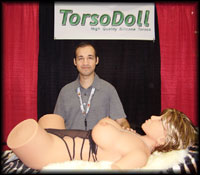 Which, yes, may be the case, but it doesn't have any arms or legs! Also available by the same company, is just breasts. You could be the proud owner of a rack if you don't want to fork over the cash for the entire torso or maybe if you just want to snuggle with something on cold nights and don't need a silicone vagina. Check it out at www.torsodoll.com.
What else happened? Well, someone offered to hypnotize me, I stared for a little too long at Tera Patrick signing autographs, I watched fans run up to Ivan and introduce themselves like happy little puppies, and I was oddly drawn to the Public Banging.com booth. They were running footage of people getting freaky on cafe tables, at bus stops, on freeways. I don't get it. How is that hot? Wouldn't that just be uncomfortable?
Along with booths, the convention offered seminars and shows all weekend. I sat in on the BDSM seminar conducted by Ms. Marina and was highly disappointed. I didn't learn anything I didn't already know. I was hoping to see some demonstration of technique, when all she really talked about was how she got started in the BDSM community. She did suggest that everyone read the book SM101. I think I just might pick that up. Sounds like good train reading to me.
I left as the crowd started to grow and my headache started to grow from over stimulation. I'll bring some ibuprofen next year!
I'm scheduling a trip to visit Ivan's set for a shoot so check him out beforehand!
www.iamivan.com
www.myspace.com/iamivan
www.erotic-la.com

Pictures taken by Princess Jolene
"All pictures courtesy of AVN Media Network. Unauthorized use not permitted.