Shoot em up, Bleed em out
Wednesday, October 22nd 2008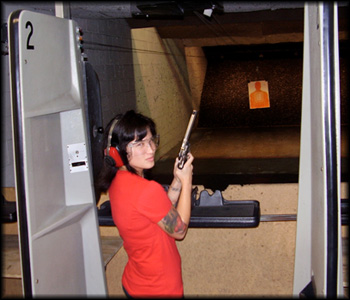 When I checked in last time, I told you my friend, Tyler, had pointed a gun at me. Not only did he point a gun at me, he pointed it at the guy giving him the gun test. This gun test happened, of course, at a shooting range (in Burbank). I walked in, camera ready, for my first experience shooting, only to be disappointed when my shooting friend and pseudo instructor failed the test. NOTE: If someone is giving you a test that involves a gun, do NOT point it at him/her (unless it's a murder test or maybe an armed robbery test).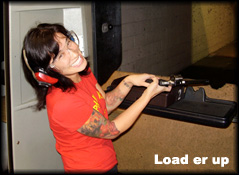 I am happy to report that this time around, Tyler was trusted with teaching me how to use a loaded gun. This time we ventured into the Los Angeles Gun Club to engage in some after work gunplay. When we arrived, the place was empty. It was both Dodger game night and Presidential debate night, so the rest of LA was apparently busy. Tyler wisely chose a 38 Special for us to shoot. Since it was my first time shooting, he and the guy behind the counter recommended that model since it doesn't have a lot of kick. You know, kick that would propel a girl of my stature against the wall.
I was happy to shoot with it because of its large size and because a rad band shares its name.
After we put on our attractive safety goggles and sexy ear coverings, we took our targets and gear into the range. Tyler opted for the generic looking orange targets. Even though he had said, "I don't really like orange," he went for it anyway, knowing I needed something extremely bright for my beginner's aim.
When we got in front of our lane Tyler showed me how to load the chamber. My only complaint was that my thumbnails were a bit too long to handle the chamber to my liking. Regardless of my long nails, I shot like a champ, only missing the target once. I hit the orange figure in the head, neck, and chest plenty and even clipped the poor bastard in the ear once. My favorite shot was in the middle of the head.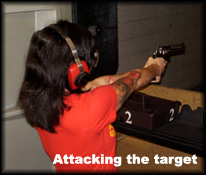 Growing up in Idaho, I was around guns all the time. I don't agree with the hunting of animals, so there was no reason for me to handle a gun before. Now, however, in this crazy city, I look at it as a good skill for any woman to have. There are a lot of weirdos out there, and you need to learn how to protect yourself. If a gun is not for you, perhaps a taser would be more to your liking (my boyfriend recommended this for me), or maybe some mace or pepper spray? Whatever you choose, always be aware and be SMART.
Enough of that rant…we finished up our round and went and got some Italian food. It was a satisfying night, I will admit.
Saturday, October 18, was also quite satisfying. Fellow Flesh Farm writer The Tim Reaper, and I made our way to the Spike TV Scream Awards. I thought maybe he would be of good use on the Red Carpet. Some of you might recall that last year I did nothing but eat popcorn and get ogled by Tobin Bell. This year I thought that maybe Mr. Reaper would want to ask some questions. He managed to squeak one out to actor James Remar, who currently plays Dexter's father and has been in a million other TV shows. Mr. Reaper wanted to know how it was to be in a Tales from the Crypt episode. What did he say, you ask? I wasn't the one who asked the question. How am I supposed to remember?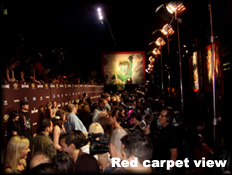 One of the more entertaining people on the carpet was legendary comic book fellow Stan Lee. I was pleased to hear Gerard Way, lead singer of My Chemical Romance and comic book artist answer some questions and I got to stare up close at John Hensley from the movie Teeth and one of my favorite shows, Nip Tuck.
Thanks, once again, to my pal Troy VanVooren for letting the Flesh Farm crowd sit with him and his clients. This year's show was much better than last year's. Unfortunately, we couldn't score tickets to the afterparty so instead we just watched the awards and then ate a gut bombing meal at Mel's in Hollywood. ADVICE: Do not mix beer and ice cream in the same evening.
Even though the parking situation is hell at the Greek Theatre and they boxed all the press in (great idea! No one has deadlines or anything!!!), oh, and my car still smells like burnt ass hair because of the fires in that area of town, Reaper and I had a good time.
Here's some of the press release from Spike – no point in me rewriting it…
The third annual "SCREAM" event featured appearances by the industry's biggest stars including Kate Beckinsale, Kristen Bell, Rosario Dawson, the cast of "Dexter," Jon Favreau, the cast of "Hellboy 2: The Golden Army,"Samuel L. Jackson, Milla Jovovich, Stan Lee, Gary Oldman, the Osbournes, Seth Rogen, Winona Ryder, Kevin Smith and Liv Tyler, among many others. The two-hour extravaganza also included musical performances by Grammy Award-winning band Smashing Pumpkins and up-and-coming pop sensation Kerli.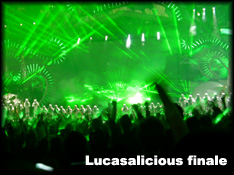 George Lucas shocked and thrilled the audience when he walked out on stage flanked by Stormtroopers to accept the Comic-Con Icon Award at SCREAM 2008. This rare appearance by one of the most iconic and influential filmmakers of all time brought the stunned crowd to its feet.

Additional honors for excellence were bestowed upon actor Sir Anthony Hopkins and filmmakers Tim Burton and Wes Craven. Sir Anthony Hopkins received the Legend Award for his tremendous contributions to films in the SCREAM genres while Wes Craven collected the SCREAM Mastermind Award for his terrifying and iconic work in the world of horror. Tim Burton received the SCREAM IMMORTAL Award for his remarkably unique interpretation of horror and fantasy.

"Iron Man" and "Sweeney Todd: The Demon Barber of Fleet Street" each took home two awards. "Iron Man" star Robert Downey, Jr. accepted the Best Actor in a Science Fiction Movie or TV Show award from the set of his new film "Sherlock Holmes" in London with Director Guy Ritchie making a surprise cameo appearance.



Spike TV also debuted world premiere and exclusive never-before-seen footage from several highly anticipated theatrical releases including "Watchmen," "Friday The 13th" and "Twilight." "Watchmen," directed by "300's" Zack Snyder, hits theaters March 6, 2009, while the updated cult classic "Friday The 13th" starring Jason Padalecki ("Supernatural") and directed by Marcus Nispel ("Pathfinder"), comes to theaters Friday, February 13th. "Twilight," directed by Catherine Hardwicke and starring Kristen Stewart, Robert Pattinson and Cam Gigandet comes to theaters November 21st.

And now is the time I have to say goodbye for a few months…time for a bit of a vacation. I'm working on educational things at the moment and will be spending my energy on those things. In the meantime have a killer Halloween and assorted holiday season!!!!!